The 'Capital Gazette' Shooter Was an Online Troll — That Should Terrify Us
How trolls and the Alt-Right have normalized violence.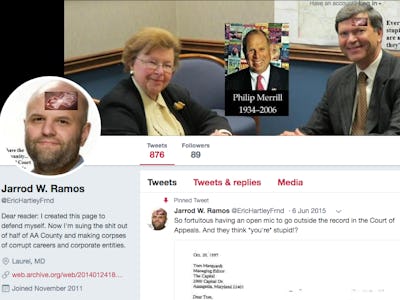 Archive.fo
On Thursday, tragedy struck yet again in the form of a mass shooting, this time at the Capital Gazette newspaper in Annapolis, Maryland. The attack, which took five lives, was specifically targeted against Gazette journalists for their journalism.
While violence against journalists isn't new in America — Elijah Parish Lovejoy was killed by an Alton, Illinois mob in 1837 for editing abolitionist stories — violent rhetoric and actions by internet trolls and the Alt-Right have bled into the mainstream.
The fact that the Gazette shooter appears to have been an online troll himself should be a warning to us all that threats that are typed on keyboards (and now read from lecterns) don't necessarily stay in the virtual world.
Jarrod Ramos' Dark Internet History
The Gazette shooter, Jarrod Ramos, was a troll. According to the Maryland appeals court judgment affirming the dismissal of his defamation case against the Gazette in 2013, the Gazette ran a 2011 story on Ramos about his online harassment of a former high school classmate. What began as an out-of-the-blue Facebook request from Ramos, reportedly turned into a months-long ordeal in which Ramos repeatedly e-mailed the victim, calling her "vulgar names" and eventually contacting her company in an attempt to get her fired (she says she was put on probation because of his calls and emails, and eventually laid off).
The article continued:
She stopped writing back and told him to stop, but he continued. When she blocked him from seeing her Facebook page, he found things she wrote on other people's pages and taunted her with it, attaching screenshots of the postings to some of his emails.
Eventually, Ramos was convicted of harassment and sentenced to 18-months probation.
After the conviction and eventual article in The Gazette, Ramos tried and failed to sue the Gazette for defamation. Despite his loss in court Ramos continued to troll the paper online.
In a now-suspended Twitter account seemingly belonging to Ramos, he repeatedly, angrily tweeted about the Gazette, Eric Hartley, the writer of the article about him, and Judge Charles Moylan, who ruled against his defamation case. Shortly before he attacked The Gazette, he tweeted "Fuck you, leave me along @judgemoylanfrnd."
Troll Tactics
The disturbing tragedy in Maryland is a reflection of a violent troll culture that has been festering on the internet for years, and that has recently been bubbling into the mainstream.
Trolling seemingly began because of the psychological disinhibition that can occur with the anonymity of certain virtual spaces, or simply with interactions mediated through a screen.
In spaces like 4chan, this has resulted in everything from racist pranks, like hacking a hip-hop forum to post hate speech or artificially making swastikas trend on Google, to calling in bomb threats or swatting (getting a SWAT team called to someone's house).
In 2012, Gamergate made headlines when a swarm of trolls terrorized journalist Anita Sarkeesian with bomb threats, rape threats, and doxxing over a prospective series on video games and misogyny.
Journalist Jonathan Weisman and writer Jessica Valenti left Twitter after receiving a wave of anti-Semitic threats and a rape threat against Valenti's 5-year-old daughter, respectively.
These 'pranks' perpetuate a violent culture and sensibility, which aren't insignificant when considering Thursday's shooting, and they are sometimes literally deadly. In December 2017, a Wichita man was killed when a SWAT team was called to his house as part of a gaming feud.
Alt-Right Amplification
While the existence of trolling culture is terrifying enough, its recent entrance into the political mainstream has amplified its disturbing normalization of violence.
In the Alt-Right, figures like Milo Yiannopoulos have given trolling heightened attention. After Milo tweeted, calling Ghost Busters actress Lesli Jones a "black dude," she received a flood of sexual, racist, and homophobic threats. Two days before the Maryland shooting, Milo reportedly told an Observer reporter, "I can't wait for the vigilante squads to start gunning journalists down on sight."
In December 2014, Edgar Maddison Welch fired on Comet Ping Pong after a conspiracy theory called "Pizzgate," which originated on 4chan, was widely spread about the DC restaurant on pro-Trump websites and on Twitter by figures such as the son of Trump's former National Security Advisor Michael T. Flynn. The theory alleged that Hillary Clinton and John Podesta were part of a child sex ring that ran out of Comet Ping Pong's basement.
Even President Trump himself employed violent rhetoric and trolling tactics during his campaign — doxxing Lindsey Graham on Twitter and repeatedly calling for violence against protesters at his rallies.
While it would be a clear exaggeration to claim that Donald Trump and the alt-Right necessarily caused Thursday's shooting, it's notable that Jarrod Ramos was seemingly supportive of Trump's ideas, and defended him on Twitter while delivering a veiled threat to the Gazette.
While sensible gun control and better early detection may have well prevented the tragic newsroom shooting in Maryland, Ramos' association with an angry, violent online culture that has encouraged and perpetrated deadly acts in the past is hard to ignore. While politicians will continue to endlessly debate gun control, a dangerous group of trolls will continue to harass, attack, and spam innocent people on and offline.