Sticking to One Doctor Could Save Your Life, Researchers Warn Millennials
It's time to practice some doctor monogamy.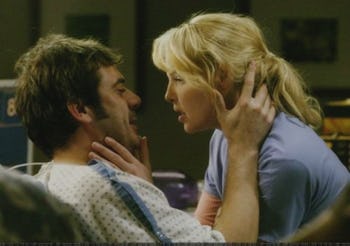 Disney–ABC Domestic Television
Before you read this article, ask yourself: have you ever ghosted on your doctor? If you have (and surveys indicate that you're probably guilty), a new study published in BMJ suggests it's time to practice some doctor monogamy. In fact, to use the lead author's words, it could be "a matter of life and death."
According to a 2016 survey of 1,171 millennials conducted by the non-profit TransAmerica Center for Healthcare Studies, roughly a third of millennials say they would like to receive all their care from one doctor, but an equal amount prefer to just operate on a case-by-case basis.
This might seem efficient for now, says Sir Denis Pereira Gray, a co-author on the new study and researcher at St. Leonard's Practice in the UK, but avoiding a long-term relationship with your doctor can have serious costs down the line. "Millennials value quick access in the UK too, but once they are old enough to get chronic, long term illnesses they will appreciate long-term generalist medical care," Gray, a former general practitioner, tells Inverse in an email.
Gray and his team did a cross-analysis of 22 previous studies looking at the link between regular doctor visits and certain health outcomes, combining their results to investigate something new: how seeing a doctor regularly affected the mortality rate of these study participants. In 81.8 percent of the studies, the people who saw a doctor had lower "all cause" mortality rate — the rate of dying from literally anything. Gray suggests that this lower mortality rate is partially because seeing a doctor regularly allows a physician to treat things holistically. He says that millennials tend to "compartmentalize their physical ills" and miss other underlying factors.
"A skilled generalist doctor may realize that that a presented physical problem may be tied up with emotional distress which may be more important," he says.
These findings come in the midst of a lot of excitement around healthcare-focused technology like telemedicine, which allows users to open an app and speak to a doctor when it's convenient. While this will have many positive implications for people in places that don't have access to medical care, like isolated, rural areas, it could also discourage even more patients from forming long-term relationships with their doctors. "Telemedicine and technology have a growing place in medical care," Gray says, "but this research shows that human factors are also important and indeed are a "matter of life and death.'"
That said, before you go pouring your soul out to a primary care doctor, note that this results are from an observational study, so there is definitely more research to be done here. And specialist physicians are champs, often with life-saving expertise. But you might want to also consider settling down with a nice primary care physician, because if the observations from the current study hold, it could one day save your life.