Now's Your Chance to Finally Grab an NES Classic
The limited-edition Nintendo console is back in stock... for now.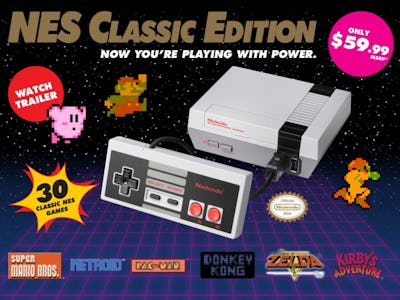 Nintendo
Forget the GameCube Mini rumors, Nintendo just brought back its original retro gaming console. The limited edition NES Classic is suddenly back in stock, but you'll have to act fast if you want to bring one home.
As of Friday morning, the NES Classic is available in some capacity from Best Buy, Think Geek, Amazon, Walmart, and GameStop. Here's everything you need to know before you place your order.
NES Classic at Best Buy
As of this moment, Best Buy is still offering the NES Classic for its regular price of $60. That gets you the console, one controller, and 30 classic games pre-installed. You can order the system right now at this link.
NES Classic at Think Geek
Online retailer Think Geek also has the NES Classic listed for $60 on its website. However, it's currently described as "coming soon" with today's date as the release date.
It's unclear if this means it's coming soon or already sold out. So keep an eye on that page.
NES Classic at GameStop
On GameStop's website, the $60 NES Classic is already sold out, leaving you with two other options:
You could shell out $110 for a NES Classic bundle that includes a carrying case, an extra controller, and special extension cables for the controllers (that last thing is actually pretty useful). Alternatively, you could try calling your local GameStop to see if they happen to have any in stock, or just head over in person and say hi.
NES Classic at Walmart
Out of stock. Sorry.
NES Classic at Amazon
Amazon's website is a bit unclear when it comes to the NES Classic. The system is apparently returning on July 5 at a special price, but it's listed at $100. That doesn't seem to be a bundle either, just the basic console with a single controller.
Still, it's probably worth keeping an eye on Amazon just to see what happens on July 5.