Elon Musk Is Running Tesla/SpaceX Like the Plot of 'Dune'
Elon Musk: "The spice must flow." 'Dune': "The spice is vital to space travel."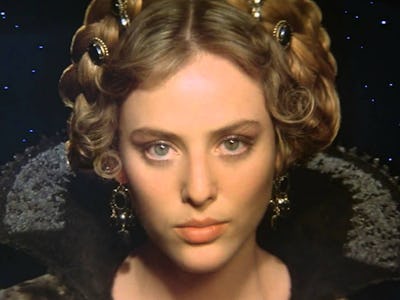 Tesla and SpaceX CEO Elon Musk must have watched Dune recently, quoting the science fiction classic twice when commenting on progress with SpaceX and Tesla. So what's his latest movie reference mean for the Tesla Model 3 production ramp and the future of the SpaceX Falcon Heavy and BFR? Well, one only needs to watch the first few seconds of David Lynch's 1984 movie adaption of Dune for a clue.
"The spice extends life…
"The spice expands consciousness…
"The spice is vital to space travel."
The entrepreneur, who celebrated his 47th birthday on Thursday, was 13 when the movie adaptation of the 1965 Frank Herbert novel hit theaters in December '84, so it's no wonder it made such an impact on Musk, a lifelong science fiction fanatic.
At 10:46 p.m. local time Thursday night, Musk was apparently at the Tesla assembly plant in Fremont, California, where he shared on Twitter a photo of rows upon rows of electric motors for the Tesla Model 3. It's crunch time for the Tesla: The Model 3 is expected to finally hit production levels of 5,000 cars a week next week, after a six-month delay caused by problems with automation at the Gigafactory battery plant in Nevada.
Musk's quote from Dune was this: "The Spice. Must. Flow."
Musk has often said any money made from Tesla will go toward making humanity a multi-planetary species by way of developing rocket and space travel technology for SpaceX: In January, Musk told The New York Times the money he makes from Tesla stock is going toward getting humans to Mars.
"None of it is intended for dynastic wealth creation. The reason that it's important to me personally is that there's some pretty big things that I want to do. I want to contribute as much as possible to humanity becoming a multi-planet species," he said, alluding to a goal he has talked about often, including having people live on Mars. "That obviously requires a certain amount of capital."
If you go back to the opening scene in Dune, those words make more sense within the context of Tesla and SpaceX, companies run by a sci-fi geek.
"The spice extends life…
"The spice expands consciousness…
"The spice is vital to space travel."
The "Spice" is Tesla
The spice is Tesla, and Tesla is vital to space travel. And Elon Musk is running his business right out of the pages of Dune. It's a little ridiculous and might've seem like a reach a few years ago, but here we are.
On June 20, Musk quoted Dune in a tweet about the Falcon Heavy, the three-stage rocket that successfully conducted its first test flight in February: "Without change, something sleeps inside us, and seldom awakens. The sleeper must awaken. FH …"
The Dune quote was appropriate and not without reason. A few days later, the U.S. Air Force announced it had awarded SpaceX a contract for a $130 million mission that would use the Falcon Heavy. The mission is "classified," according to an Air Force press release.
There are hopeful rumors of a Dune remake — IMDb has it listed as "in development" — but there's no indication Musk is looking to disrupt Hollywood like he did aerospace and the auto industry.
Musk has also allowed Herbert's Dune to influence his views of artificial intelligence, tweeting in 2014 that the late author's work "advocates placing limits on machine intelligence."