Leo DiCaprio Goes Into the Wild in 'The Revenant' Trailer
A book the author couldn't promote becomes a movie the studio definitely can.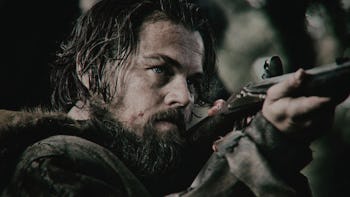 The trailer for Alejandro Inarritu's Leo DiCaprio-starring follow up to Birdman, The Revenant, may comes as a bit of a gory shock for film fans unaware that the hyperblockbuster, which also features Tom Hardy, was in production. The movie tells the story of Hugh Glass, a trader mauled by a grizzly bear during an expedition in the early 1800s and then abandoned in the freezing, violent backcountry. Glass, a real human, mind you, survived to take his revenge and have his story told by author Michael Punke, who is the real reason you haven't been hearing more about this movie.
Punke's book was a sleeper, but he hasn't been able to capitalize completely on it becoming a Hollywood sensation because he can't do press. When he's not writing, Punke serves as the Deputy United States Trade Representative and U.S. Ambassador to the World Trade Organization. When Picador re-released his book, originally dubbed in 2002, this January, he couldn't really do anything except feel a quiet sense of accomplishment and check his bank account.
The trailer, which is promising as hell (and looks like it), isn't the first Hugh Glass drama the public has enjoyed. In 1971, Richard Harris starred in Man in the Wilderness, a telling of the Glass story that was considerably less violent than The Revenant promises to be.