Amazon Prime Day 2018: 4 Deals That May Be Returning This Year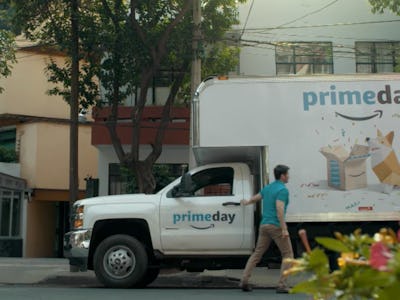 Amazon
Thanks to a slip up from Amazon UK, the date of Prime Day 2018 is July 17, but the deals will actually start 12 hours before on July 16. With 36 hours of deals, there are some products that will likely be on sale again like in previous years.
Amazon sells a seemingly unlimited amount of items on its site, but not everything will be part of the Prime Day sale. Some products, however, do keep showing up so it could be worth scoping a few out early before things go a little crazy on the site.
Amazon Products
This is a no brainer. Amazon increased its line of products this year with the Fire TV Cube and Amazon Echo Look. These two new items go along with the Kindles, Echos, Fire Tablets, and all the electronic devices that come with the Alexa A.I. Expect to see a drop of 15-25 percent or more with these products. Other Amazon brands such as Amazon Basics, Amazon Essentials, and so on will also see a similar discount.
LED TVs
Another staple of Prime Day are LEDs. Samsung and Vizio are two brands that show up on a regular basis in the Prime Days sales, typically starting at the 32-inch LED TVs. Depending on the size, prices could drop from $100 to the smaller TVs to a couple hundred dollars for the larger 55-inch LEDs or larger. Both brands have a wide selection of models, especially versions that include a casting device like Roku. Pick a few within a certain price range, and there's a good possibility that one of the bunch will go on sale.
Anker
The Chinese tech company Anker is a big name in affordable electronics. Although it's best known for charging devices and power banks, the company also moved into headphones and other accessories that have a good rating. Those wanting a new wireless charging pad could save some money on Prime Day by looking for Anker products.
Gaming
Expect to see a few recent video game titles get a price drop on Prime Day. For example, 2016's Doom was on sale for 50 percent off months after its release just for Prime Day 2016. Razer accessories also have a history of going on sale during these events for those who need a fancy mouse or keyboard.
With Prime Day being a bit moneymaker for Amazon, there will be plenty of deals to look through, but customers need a Prime membership to partake in the festivities.
Another perk of the Amazon Prime membership is the access to Amazon Prime Video. A new show coming to the streaming service is Invincible, based on a comic from Robert Kirkman who also created *The Walking Dead.