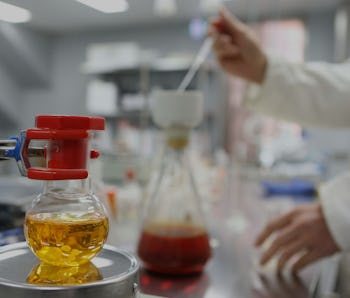 Mind and Body
UK Court Could Make Drug Trials Transparent
A public database could shed light on how well a drug is really working.
Getty
A court battle underway in the UK could drastically change the public's relationship with ongoing medical research.
The Mirror reports that the Health Research Authority wants the results of every drug trial — old ones included — collected in a public database. Its argument is that the access will make it easier to determine how a drug is working. As the UK paper notes, the findings of about half of all clinical trials are kept from publication and that lack of information allows some drugs to seem as if they're more effective than they really are. Transparency, the argument goes, is always for the better.
A lot of the drug industry has been supportive of the measure, but Richmond Pharmacology is fighting back, calling the registration requirements illegal. While the company's reasoning is vague, a representative told Outsourcing-Pharma it was "forced" to ask for a judicial review because the HRA "acted unlawfully in respect of their implementation of their transparency policy." The specific nature of the lawbreaking has not, as yet, been specified.
At any rate, a decision is expected next week. If the UK moves forward with making trials more transparent, expect the number of headlines pushing super-effective cures to drop rapidly and the pushback against the drug advertisements that currently cluster bomb American television to get more forceful as the facts come in.