'Fortnite' Playground LTM: New Mode Finally Makes It a True Sandbox Game
'Fortnite' has 'Minecraft' in its crosshairs.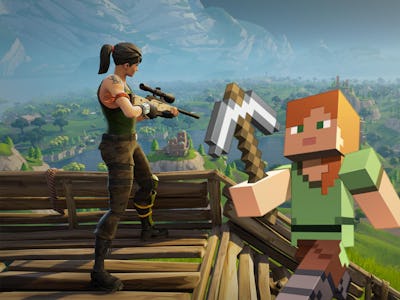 Epic Games / Mojang
Since Fortnite was first announced at E3 2012 — yes, 2012 — Epic Games has described it as a "co-op sandbox survival game." That description originally pertained to the Fortnite: Save the World experience before the company pivoted to also develop Fortnite: Battle Royale, but it isn't until now in 2018 that the game has come close to delivering anything even remotely close to a true "sandbox" gaming experience.
On Sunday, Fortnite: Battle Royale players noticed a "Coming Soon" announcement under New Updates for the "Playground LTM." The description read "Let your creativity run wild on your own private island!" The Playground limited-time mode was originally announced back in May, but it's been delayed ever since.
Epic Games finally has Minecraft, the prototypical sandbox game, squarely in its crosshairs with this new game mode, which will let players experiment by creating their own experiences. By the end of this week, Fortnite: Battle Royale players will have their own freestyle sandbox to play in.
Earlier this June, a spokesperson from Epic Games cited "significant necessary back-end improvements" as the primary cause for the game mode being delayed until now. That's probably because this new game mode is unlike anything that's ever been done before in Fortnite: Battle Royale. So how exactly does it differ?
Essentially, the Playground mode will allow a solo player or a full squad of four players to enter an instance of Battle Royale alone. There'll be increased loot in the form of more Ammo Crates, Chests, and even Llama piñatas. Friendly fire allows players to scrimmage against one another, but everyone respawns instantly. And because there are no storms closing in or enemy players to contend with, a player could conceivably play and experiment for as long as they want.
In short, without the threat of permanent death in this Playground game mode, players can practice combat, building, and using all sorts of items in different ways. They can explore the island, build huge bases, experiment with weapon and item combinations, or just make a sky bridge across Loot Lake. The possibilities are endless, allowing for a greater amount of creativity and experimentation. "Practice, strategize and enjoy yourself," Epic Games wrote in a May blog post. "We can't wait to see what you do!
Playground represents the true type of sandbox gaming experience that made Minecraft so popular before Fortnite overtook it as the most searched game on Google in March. And it proves that Epic Games is committed to evolving Fortnite over time.
Fortnite could be just another temporary craze in the world of gaming that tapers off over time, like Pokémon GO was before it, but if Epic Games is committed to adapting the game and changing it to suit fan interest, then it just might remain a prominent force in the zeitgeist moving forward.