SpaceX Is Sending the International Space Station Toy Dogs — Here's Why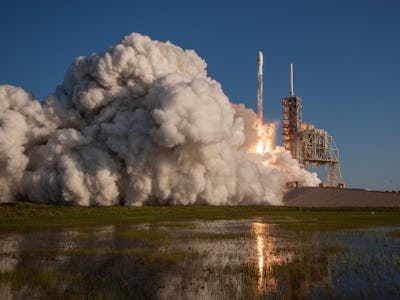 SpaceX
Next week, SpaceX will have another launch. It won't send out another satellite or put a Tesla in space, but instead, it will bring supplies, cargo, and other special goodies to the International Space Stations (ISS).
A Falcon 9 rocket will carry the Dragon capsule on Friday, June 29, in the SpaceX CRS-15 mission. The capsule will contain supplies for the astronauts on the ISS as well as a new Latching End Effector (LEE), which is the "hand" for the Canadarm2. The robotic arm developed by the Canadian Space Agency is able to grab payloads and is used to build parts of the ISS. Last year, one of its "hands" failed during a series of spacewalks so the new LEE will act as a replacement.
Another piece of special cargo is a toy dog. In association with the National Parks service, one of its Lewis and Clark toy pups will make the trip to outer space. The toy dogs — named Harper, Dakota, Rocky, and Keelie — are part of the park agency's celebration of the 50th anniversary of National Trails System, which was established to create trails in urban and rural areas across the US. Each pup will travel to different locations on the Lewis and Clark National Historic Trail in tribute to Seaman, a Newfoundland dog that accompanied two explorers. The gesture will also help celebrate NASA's 60th anniversary.
The official SpaceX Twitter account tweeted the Falcon 9 for CR-15 will use one of the company's remaining Block 4 boosters instead of the new Block 5s. This means it will not be retrieved or reused.
CRS-15 will launch at 5:42 a.m. Eastern on Friday, June 29, from Space Launch Complex 40 at Cape Canaveral Air Force Station in Florida. A livestream of the launch will be shown on NASA TV.
More than 5,900 pounds will be in the Dragon capsule for the launch. Included will be some experiments, but it's unlikely any of the experiment will be as strange as the time when NASA sent sperm to the ISS.
Editor's Note: As of 10:18 a.m. Eastern, 6/24/18, the story has been updated to reflect the most current information about the launch.