'Wonder Woman 1984': Retro Movie Poster Influenced by Rocky III Is Released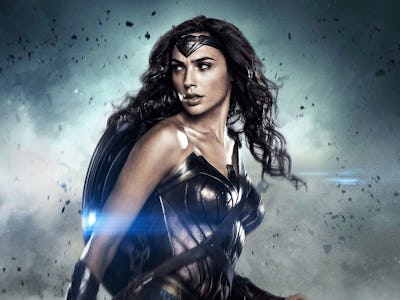 Warner Bros. Pictures, DC Entertainment
W onder Woman 1984 will put the Amazonian princess right in the middle of the 1980s filled with consumerism and big hair. To set the tone of the new setting, one artist made a proper 1980s poster for the movie. All that's missing is a can of New Coke.
Olly Gibbs, an award-winning designer for Empire Magazine, tweeted the 1980s-influenced movie poster for Wonder Woman 1984 on Friday. The design of the retro poster has a metallic logo and a font similar to 1982's Rocky III movie poster. There's even a tagline saying, "If no one else will defend the world, then she must."
"I had a burst of inspiration after seeing the new #WonderWoman1984 stills and had to have a go at designing an '80s poster for it," Gibbs tweeted. He made a second poster trading in the metallic logo for a neon one.
Later, he even created VHS box art and included the classic "Warner Home Video" logo.
One Twitter user remarked at the similarity with the Rocky III poster and Gibbs confirmed that was his influence.
Only small bits of information about Wonder Woman 1984 have been made public so far. Wonder Woman (Gal Gadot) takes part in the height of the Cold War between the US and the Soviet Union. Here she'll contend with Barbara Ann Minerva, better known as Cheetah, who will be played by Kristen Wiig. And, that's about it.
More details about Wonder Woman 1984 will likely be revealed at Comic-Con International when it kicks off on July 19 in San Diego. No schedule for the event has been made public, but there's a good chance there will be a panel for the film in Hall H.
With so little info released about Wonder Woman 1984, the image of Steve Trevor (Chris Pine) in the film makes everything even more confusing, considering what happened to him in the first film.