Octavia E. Butler: How Science-Fiction Author Battled Racism in Her Works
The author made a name for herself in the realm of science fiction.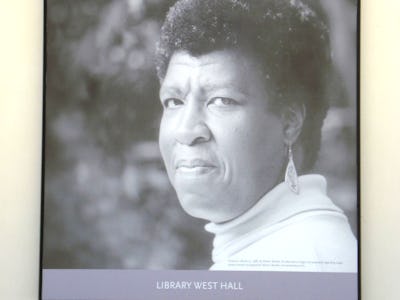 Wikimedia / Doctor Doctorstein
Google celebrated the life of Octavia E. Butler on Friday, with a commemorative homepage doodle dedicated to the science fiction author on what would have been her 71st birthday. Her work, which came at a time when white male protagonists dominated the field and she faced racism in her personal life, broke new ground and spoke to new audiences.
Born in Pasadena, California, Butler felt an outsider from the start. She was a tall child, shy, and grew up with racial segregation around her. Through her works, she dedicated herself to highlighting humanity as a hierarchical species, while also reshaping the genre by including black women in her work. In an essay regarding the 2001 United Nations racism conference, Butler wrote: "Tolerance, like any aspect of peace, is forever a work in progress, never completed, and, if we're as intelligent as we like to think we are, never abandoned."
Butler cited her 1987 book Dawn as an example of this. In the book, an alien race descends to Earth and informs humans that they are intelligent but hierarchical, and that the latter too often drives the former. In another of her novels, 1979's Kindred, a black woman travels back in time to save her life by also saving the life of her slave-owning white ancestor in the South. In 1993's Parable of the Sower, a broken-down society in the 2020s leads one woman to escape her home.
Butler was widely respected for her work in her life. In 1995, she became the first writer to receive a MacArthur fellowship, which is awarded to those with "extraordinary originality and dedication in their creative pursuits." She also received two Hugo awards from the World Science Fiction Society and two Nebula awards from the Science Fiction Writers of America. Her legacy is still felt today: In Friday's doodle, her family described her as someone that "sought to speak truth to power, challenge prevailing notions and stereotypes, and empower people striving for better lives."
It's not the first Google Doodle to celebrate a famous author. Previous sketches have celebrated the lives of Virginia Woolf, Chinua Achebe and Gabriel García Márquez.
Butler passed away in 2006 in Washington State at age 58.