Tesla Leaker Claims Battery Info 'Was Too Important Not To' Leak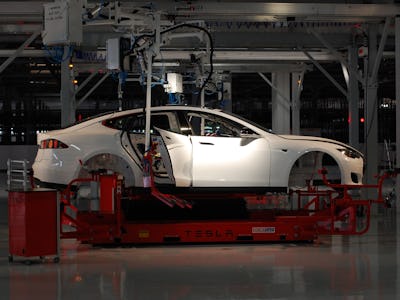 Flickr / pestoverde
Martin Tripp, the former Tesla technician at the center of a lawsuit around the leaking of company information, has claimed the data he acquired from the company's manufacturing operating system was "too important not to" disseminate. The Thursday interview comes just hours after published emails show Tripp speaking with CEO Elon Musk about his actions.
Tripp said in an interview with Jalopnik that he determined that a poorly programmed robot was puncturing the plastic housing of some battery cells. He claims that 732 modules "are in [Tesla] Model 3 cars driving around right now" with the possibility that they have punctured cells. Tripp shared data with Business Insider that he claims showed the issue, and the Washington Post confirms that Tripp was the anonymous source for a previous story. Tesla claims that a robot damaged some modules and investigators took a closer look in February, but it threw away any punctured cells and none were used in Model 3s. To date no safety issues have been reported in Model 3s stemming from battery issues.
Tesla has filed a lawsuit in the United States District Court of Nevada alleging he hacked trade secrets, sent data to third parties, exaggerated claims, and leaked information. The company also claims Tripp exaggerated the amount and value of scrap Tesla created during the manufacturing process. Tesla also claims the employee, who started at the company last October, was upset about not receiving a promotion. The company reassigned him to a new position on May 17.
The lawsuit comes after Musk sent an email to employees earlier this week alleging that the company was victim of internal sabotage. He asked employees to remain "vigilant" as a number of third parties want to see Tesla fail, including Wall Street short sellers and oil and gas companies. In a follow-up email, Musk alerted employees that a fire on the production line shut down operations for several hours, describing it as "strange" but concluded there was no "injuries or significant equipment damage."
Tesla is expected to report its production numbers in the coming weeks, where it will become clearer whether it has met its goals to ramp up production of the Model 3 from the 2,000 per week it reached at the last delivery report.
Tesla is putting out all the stops to reach its goals — including the construction of a tent.