What We Know So Far About 'X-Men: Apocalypse'
The mutants return for their ninth movie.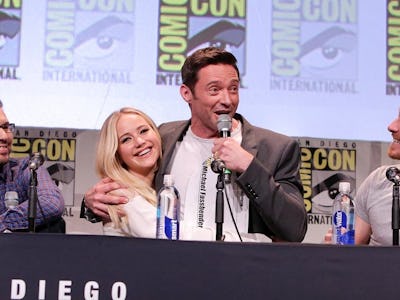 Due for release next spring, X-Men: Apocalypse is the ninth movie about heroic mutants. The successor to 2014's Days of Future Past hit up Comic-Con last weekend, gifting those lucky enough to attend with a sneak peek at its first footage. While Fox has chosen to keep that sizzle reel under lock and key, there's still plenty of information on the sequel in circulation.
For those of you unfamiliar with its super-powered premise, here's the skinny: The original 2000 movie kickstarted the franchise, introducing audiences to a new brand of superhero. Mutants exist in a world not dissimilar to ours, serving as a kickass minority of people born with certain abilities. Society fears them, even though for the most part they seek to do good, and dynamics between various mutant factions spark a majority of the movies' storylines.
Apocalypse picks up 10 years after the 'past' events of Days of Future Past in the 1980s. Popular X-Men figureheads who dominated the first trilogy - Wolverine, Storm, Mystique, Jean Grey - are swapped out for younger versions due to the time period. Hugh Jackman, Halle Berry, Rebecca Romijn and Famke Janssen won't reprise their respective roles, instead passing the torch onto a new generation introduced in First Class.
So, pre-existing mutants will appear much younger and be played by new actors. Sophie Turner takes over the Jean Grey role, Kodi Smit-McPhee will do a teenage take on Nightcrawler, Tye Sheridan is Cyclops, Alexandra Shipp dons a shock of blonde hair for Storm, and Ben Hardy goes all evil and entitled as a juvenile Angel. Oh and Jennifer Lawrence, Michael Fassbender, James McAvoy, and Nicholas Hoult are still involved as Mystique, Magneto, Professor X, and Beast. They're young too. Here's what the film's director had to say on these iterations:
"These are very different characters than they were in the films X-Men 1, 2, and 3. They are at times in their lives when they are at the most opposite of what they would become. That's a thrill to me, to take characters I crafted so many years ago and flip them completely on their side and show how they evolved and began."
But wait — there's more mutants! As well as those two batches, seeing as the film revolves around the titular villain Apocalypse, some of the characters pertinent to his comic book storyline have been roped in. Say hello to Psylocke and Jubilee.
Confused, yet? Well, the story specifics only add to the complex web of plot concocted by director Bryan Singer. Yes, he's back after his sabbatical from the franchise to create a duff Superman sequel and …. The '80s are in full swing, and after a decade of relative peace, a devastating threat emerges: El Sabah Nur aka Apocalypse. Dubbed as the first ever mutant, his appearance will make way for revelations regarding the origin of mutants and what's rumored as the most explosive, epic, globally-devastating X-Men movie yet. Apocalypse (played by sci-fi's man of the year, Oscar Isaac) wakes in his Egyptian tomb after thousands of years, takes one look at the planet - at the height of hedonism and excess - and decides he can do better. "It's a chaotic world of conflict and war and destruction," Singer told Entertainment Weekly. "It's one giant civilization that now requires one giant culling. That's why he needs ­special assistants in this process." So begins his Earthly cleansing, aided by his Four Horsemen — none of whom have a choice in the matter, as his manipulative abilities coerce them into joining his cause.
All in all, plucking this fan-favorite crossover storyline out of the hundreds available is an intriguing and ambitious movie. Writer-producer Simon Kinberg, who serves as Fox's go-to man for handling their Marvel comic properties, assures us that it's all about dramatic tension:
"Whenever we talked about the sequel, the challenge was that it needed to feel not necessarily bigger visually but that the stakes needed to feel bigger."
There's no doubting the enthusiasm of Singer, Kinberg and the massive cast, which is psyching up fans for one of the best X-Men movies yet. But after the behemoth presence of Apocalypse where will Fox venture for the next, inevitable sequel?