The Vampire Movie Deadpool Loved Is Coming to Netflix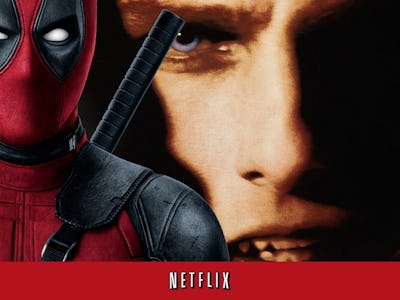 20th Century Fox, Warner Bros. Pictures
Remember in Deadpool 2, when Dopinder talked about a Kirsten Dunst ("Kiersten Dunst?") vampire movie? That movie was Interview with the Vampire, a 1994 gothic horror film with Tom Cruise and Brad Pitt, and it's coming to Netflix.
On Wednesday, Netflix released a release calendar for the month of July. And on July 1, Interview with the Vampire will be made available for U.S. subscribers, along with other classic movies like Chocolat (2004) and the original Jurassic Park trilogy. There are also fun movies like Get Smart (2008), Happy Gilmore (1996), and The Princess Diaries (2001), which will leave your post-Fourth of July barbecue movie night with no shortage of options.
But Interview with the Vampire! While it was a punchline in Deadpool 2, Neil Jordan's adaptation of the 1976 Anne Rice novel of the same name is a dark but delightful moody horror movie that is also an emotional drama.
Set in modern day San Francisco, a reporter (Christian Slater) interviews a vampire (Brad Pitt), who reveals his life story that begins in a Louisiana plantation in 1791 and takes place throughout the next two centuries.
The film also stars Tom Cruise, a young Kirsten Dunst (long before Spider-Man), Antonio Banderas, an Thandie Newton, who you know from HBO's Westworld. And funny enough, Pitt made an actual cameo in Deadpool 2.
No jump scares or disturbing twists here (looking at you, Hereditary), Interview is less about any reinvention of the vampire mythology and more about human history as seen by two elite but alien observers. If it's good enough for Deadpool and Dopinder, chances are it's good enough for you too.
Interview with the Vampire begins streaming on Netflix on July 1.