'Suspiria' Remake Is Very, Very Much R-Rated
The MPAA has rated 'Suspiria,' teasing a darker movie than even the original.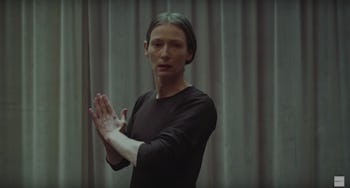 Amazon Studios
While it's easy to be suspicious of a remake of Dario Argento's Suspiria, the official rating from the Motion Picture Association of America should ease some concerns. In fact, the rating is a solid enough reason to get excited for what will probably be another harrowing moviegoing experience.
On Monday, the official Twitter page for Amazon Studio's Suspiria remake posted its brand-spanking-new R rating from the MPAA with the humorous tweet, "This is accurate."
It was kind of expected the film would be rated R, just like Argento's original. But the criteria the MPAA judged the film by teases a way more dark, disturbing, and graphic movie than the 1977 classic.
It also sounds like a pretty good time, to be perfectly honest.
The MPAA has officially rated Suspiria "R," for "Disturbing content involving ritualistic violence" (cool), "bloody images and graphic nudity" (fun), "and for some language including sexual references" (dope).
Now compare the remake's ratings to Dario Argento's original, which was rated "R" for for "Intense Sequences of Terror/Violence and Some Graphic Disturbing Images." That sounds kind of lame, in retrospect. (And anyone who has seen the original Suspiria knows it's anything but.)
Of course, the MPAA has slowly changed its criteria over the last forty years. It's hardly a new thing, but changing cultural attitudes has lead to a documented phenomenon called "ratings creep."
At the same time, the extremely secretive censorship group of the film industry keeps its system maddeningly opaque — just watch the documentary This Film Is Not Yet Rated to see how — so it's anyone's guess where an awesome jumble of words like "ritualistic violence" appears where it previously didn't.
In Suspiria, Dakota Johnson plays Susie, an American ballerina who enters a prestigious school in Berlin only to learn the school is a front for something terribly dark. Jessica Harper, who played Susie in the original film, has a supporting role in the remake. The film also stars Chloë Grace Moretz, Tilda Swinton, and Mia Goth. And while Goblin's original moody score remains a classic of '70s horror, Radiohead singer Thom Yorke is signed on to score the remake, and Luca Guadagnino will direct.
Suspiria will hit theaters on November 2.