'Incredibles 2' Isn't For Everyone, Disney Says in New Health Warning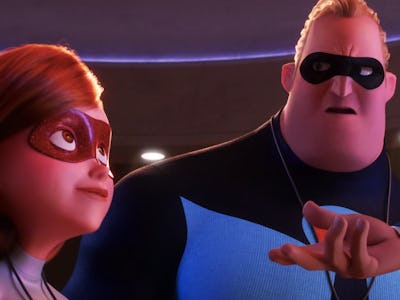 YouTube.com/Disney Pixar
While the long-awaited Incredibles 2 promises to offer brave themes and family-friendly entertainment, the film isn't as friendly to epileptics. Disney is now asking theaters that show the film to notify patrons with a strobe light warning, one that had been missing until one moviegoer complained on Twitter.
After watching Incredibles 2, Twitter user Veronica Lewis began a thread that presented all the ways in which the film uses strobe light effects. Written warnings are common for concerts and films that use excessive amounts of strobe effects, especially since 1997, when Pokemon was taken off the air in Japan after an animated episode sent more than 600 children to hospitals for its aggressive use of flashing lights. Lewis blogs about life with vision impairment and was concerned that Disney/Pixar failed to uphold this standard of advising viewer discretion or presenting any warning to those with photosensitive epilepsy.
"HEALTH ALERT: I haven't seen this mentioned in a lot of places, but the new Incredibles 2 movie (#incredibles2) is filled with tons of strobe/flashing lights that can cause issues for people with epilepsy, migraines, and chronic illness," Lewis' said when introducing the thread. Her spoiler-free thread describes a weapon in the movie that is used to disorient people with "bright white lights that are at a rapidly flashing/strobing frequency." These strobe lights appear in multiple scenes, one of which felt like it lasted roughly 90 seconds, according to Lewis.
The thread quickly went viral and was shared not just within the epileptic community, but among others who could also be affected. Lewis specifically mentioned those who suffer from migraines, vision impairments, seizure conditions, vertigo (specifically flicker vertigo), autism, ADHD, and PTSD as groups that could experience serious reactions to the images in Incredibles 2. Parenting blogs shared Lewis' warning and Disney was eventually alerted to the company's oversight.
Disney is now asking all theaters showing Incredibles 2 to include a health warning for those who are sensitive to strobe lights. No incidents of seizures or other health problems have been reported after watching Incredibles 2, which could be thanks in part to Lewis' tweets drawing attention to the problem.
"Video games, some music videos, live concerts, theme park attractions, and even consumer electronics provide warnings about strobe lighting effects and the potential for seizures and other adverse effects," Lewis tweeted. "Why not have the same thing be done for a movie targeted at kids?" Thanks to her awareness-building, Disney heeded the call.