Nintendo World NYC Allegedly Received a Bomb Threat Over 'Super Smash Bros.'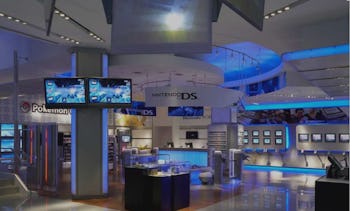 Nintendo World
The New York City flagship of Nintendo World received a bomb threat, the NYPD confirmed with Inverse, after a person was allegedly angry over the removal of Super Smash Bros. kiosks from the store.
A complaint report was filed on Saturday, after store administrators found the threat that was first written in April. The unidentified person allegedly made threats and expressed anger about the game's removal.
News of the bomb scare first appeared on Twitter when reporter and Twitch streamer Mitsu said the investigation was being treated as a terrorist act. Both NYPD and FBI were said to be involved. The tweet also shares that the suspect allegedly was motivated by the removal of Super Smash Bros. kiosks, but NYPD was unwilling to confirm that motive to Inverse.
Not only is the motive still under investigation, but NYPD could not confirm the involvement of the FBI. Local police responded to a departmental call and worked directly with employees at Nintendo World NYC. The threat did not prompt a store closure or any visible disruption of service.
The original Super Smash Bros. came out in 1999 for the Nintendo 64. It was the first game of its kind to include a roster of Nintendo characters and to include platforming elements into a fighting game. It became a hit on the console and new versions of the game appeared on later Nintendo consoles including the Gamecube, Wii, and Wii U.
Back in March, Nintendo NYC held a showing of the company's Nintendo Direct in celebration of a year since the release of the Nintendo Switch. To end the video, Nintendo teased the release of a new Smash Bros. game for its new console. That new game was officially revealed this past Tuesday at Nintendo's E3 press event and called Super Smash Bros. Ultimate.
Super Smash Bros. Ultimate will have a monster roster of 64 characters, although Waluigi is nowhere to be found, and will make a variety of improvements to the game in order to make it more of a competitive fighter. Brand new in this addition to the franchise is Inkling from the Splatoon series and Ridley from the Metroid franchise. Super Smash Bros. Ultimate will release on Dec. 7, 2018.
Police are still investigating the bomb threat but Nintendo World NYC will remain open until further notice.
This story is developing.
Additional reporting from Oscar Gonzalez.