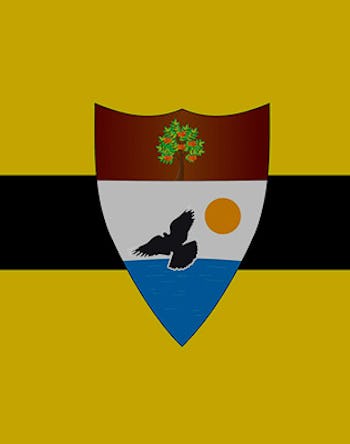 Innovation
Long Live Liberland, a Libertarian Crypto Utopia Floating on the Danube
"Our country is about pushing the borders of liberty to the maximum."
Wikimedia / TKrissG
It's an overcast April day on the bank of the Danube River, and the Free Republic of Liberland is celebrating its third independence day. Supporters have gathered from all over the world to hang out on a fleet of boats, drink specially branded beer and wine, and chat about redrawing the world's atlases in pursuit of a haven for cryptocurrency.
Vít Jedlička doesn't exactly cut a revolutionary figure. While Washington is portrayed as a towering inferno, and Lenin as a steely thinker, Jedlička seems more like a friendly uncle you haven't seen for a while: His speech is warm yet precise, and he maps out bold plans with the matter-of-factness of someone recounting their last trip to the supermarket.
"Our country is about pushing the borders of liberty to the maximum," Jedlička tells Inverse. "To maximize the liberty and happiness of our citizens."
There's just one problem, though. In their pursuit of a dream to build a futuristic country that uses crypto and blockchains to power its governance, Liberland has chosen a patch of land in between Croatia and Serbia that it believes is not claimed by any country. Croatia vehemently disagrees.
Inside the two-deck S.S. Liberty, which is carrying 60 of the party's 130 attendees, the 34-year-old founder rallies his people. Croatian police have been spotted on the water. Jedlička, the first and current president of the self-proclaimed nation, quells the fears of his fellow citizens. The party will carry on.
"We actually appreciate what Croatia is doing," Jedlička says. "In a way, you can say they're protecting it for us!"
Backing up Jedlička is Tom Walls, the project's foreign minister. Although he resides near West Palm Beach, Florida, he's made his way out to the Balkans to join the others as part of a fleet that includes the S.S. Liberty, flanked by eight Pontoon boats, that is jetting off from Apatin in the Serbian province of Vojvodina. The whole trip was hosted in conjunction with cryptocurrency group D10E. Walls described the day to Inverse as "a tremendous, tremendous celebration."
Though it might seem a like a party boat to some, Jedlička's passion runs deep. As you might expect from a libertarian attempting to start their own country, he has some strong opinions about socialism, which he calls "a false belief that the state will decide on your money better than you yourself." He's dismissed the European Stability Mechanism as a protectorate. Naturally, he's a fan of Ron Paul.
Liberland has a passionate leader, a dedicated population, a working draft of a constitution, and big plans for the future. Despite all this, and Jedlička's election, neither he nor any of his fellow Liberlanders can set foot in their proclaimed 2.7 square miles of land.
How to Establish a Crypto Republic
The project has situated itself at the heart of a border dispute between Croatia and Serbia, which concerns around 5.4 square miles of land. A European Policy Center briefing in November 2010 explained that land erosion has shifted the Danube westwards, and while Serbia wants to follow the flow of the river, Croatia would prefer to follow a law-based rationale that follows the approach used by the Austro-Hungarian Empire.
This land was in dispute when an anonymous writer called "Satoshi Nakamoto" in 2008 invented something called bitcoin, a digital currency with transactions recorded in a distributed ledger called the blockchain.
One year after this obscure development, Jedlička was elected as regional president of the Libertarian Party of Free Citizens in his native Czech Republic. But he was also growing disillusioned with his country's politics. He craved something new.
Four years later, while working in Mexico, another man called Daniel Dabek learned about Satoshi's project, and in the process "opened [his] mind." Thousands of miles from the border dispute, Liberland was beginning to take form.
"The Most Cost-Efficient Government Ever"
Jedlička, weary of Czech politics, decided to take action. He put out a sign-up sheet for his prospective idea of a new country, and in the first week received over 200,000 registrations, far surpassing his expectations of around 20,000. This new country would be formed with new ideas in mind, and it would use cryptocurrency technology to make it happen.
Key to the Liberland plan is Merit. The cryptocurrency is capped with a supply that's controlled by the government, currently pegged to the U.S. dollar at a 1:1 ratio with plans to establish a bitcoin-like trading market in future. The aim is to abolish obligatory taxation: Unlike almost every other country that makes citizens pay tax, people choose to voluntarily stake Merit in order to vote and fall under Liberland jurisdiction. Merit also works as collateral in the justice system. The idea, Jedlička explains is "the people that build the country are the ones to run it."
The contributions from Merit, all viewable on a webpage, are used to fund what Jedlička refers to as "the most cost-efficient government ever." Last year, in its annual financial report, Liberland earned $334,000 in operating income and $212,250 from cryptocurrency gains. Voluntary tax donations made up $96,889, or 29 percent of operating income, with 53 percent of its funds coming from "strategic and larger investments." It spent $292,000, leaving a surplus of $254,350.
However, Jedlička is not advocating for some sort of plutocratic nightmare. The majority of the population, he says, will always be able to block a decision endorsed by the majority of Merit holders. Everybody that stakes more than 5,000 Merits will be eligible for citizenship, which means they're able to run their own masternode, and the majority of masternodes can block a decision. Around 500 people are already citizens of Liberland. The idea is to maintain basic democratic structures while also providing some sort of incentive to pay tax.
A Cradle for Cryptocurrencies
Merit is not the state-mandated official currency. In fact, its representatives see Liberland as serving as something of a cradle for cryptocurrency. As South Korea enacts regulations on real-name accounts and the United States meditates over which tokens to regulate as securities, Liberland wants to support cryptocurrencies with pro-crypto regulation with the goal of creating jobs, not just for Liberland's citizens but also in the neighboring Baltic states.
The idea of a crypto-libertarian state inspired Dabek, who first heard about Liberland in 2015 while working in Silicon Valley, when the area was awash with excitement about the new project. He relocated from his native US to the Serbian capital of Belgrade, where he's now founded three companies and employed more than 50 people in software development and blockchain.
"I believe that Liberland is an essential cog in the system that cryptocurrency needs to reach mass adoption," Dabek, who now serves as Liberland's representative in Belgrade, tells Inverse.
"The most important thing, I believe, for all the people of Earth, is that Liberland exists, so that cryptocurrency has a place…we need some place that will keep an anchor," Dabek says. "I have constant fears that the cryptocurrency regulations will be imposed upon me in all these foreign countries…and that's why Liberland is essential to my wellbeing."
"We Are Like Refugees"
Croatia disputes Liberland's interpretation that the land is terra nullis. The country's ministry of foreign affairs issued a statement in June 2015 stating the border "is still the subject of negotiations between the two countries," and that "regardless of the fact that the border has not yet been finally determined, the area concerned [Liberland] does not involve no man's land." Serbia does not recognize Liberland, in keeping with the position of Croatia and every other United Nations member.
"Literally we are like refugees," Daniel Dabek, Liberland's representative in the Serbian capital of Belgrade, tells Inverse. "We are not allowed in our own land."
On the other side of the river, Croatian supporters sympathetic to the project's ideas even include some government officials.
"There is no hurry, there is nothing that will come overnight," Ivan Pernar, a Croatian member of parliament for political party Živi Zid (translates as Living Wall), tells Inverse.
Pernar notes that while the government is against the settlement, the public is largely indifferent as more pressing issues take priority. He's helped Jedlička speak to important officials and put the case forward that the land is terra nullis, but progress is slow. Walls explains that the group has hired international lawyers, and it's willing to work with all sides to reach a suitable agreement.
Winning Over the Locals
Jedlička's plans have attracted attention in the cryptocurrency space. Walls claims he's garnered the interest of big names like Vitalik Buterin and Roger Ver, while globetrotting to crypto conferences in Puerto Rico and Japan.
"I think it's an interesting and promising project to try to create micronations and use them to explore libertarian and other kinds of governance models, and wish them the best," Buterin, co-founder of Ethereum, tells Inverse. "I'm not really directly involved though."
Liberland's supporters say the project is about far more than just about giving eccentric entrepreneurs a place to hide as their technology is under perceived assault. As the friends laugh and chat on the river, a positive movement is emerging that stretches beyond the politics.
Liberlanders are engaging in philanthropy, sponsoring events like wheelchair basketball in Alpatin, and contributing to the local area. The project's Facebook page shows students from the Apatin Technical School practicing navigational skills with the S.S. Liberty. In June, the project opened a wildwater canoe club in the Czech capital of Prague.
"It is one of the many Liberland sports team that launched despite the fact that Liberland as a state does not finance sport activities," Jedlička says.
Walls explains that locals in Serbia are somewhat receptive to the idea as it attracts tourism and promotes economic growth. Unemployment in Vojvodina reached up to 30 percent in the years following the Yugoslav wars.
Even if they don't care about Merit or the decentralized libertarian future, locals are pleased by the international visitors that spend money and give something back to the community. In many ways, this is the part of Liberland that matters.