We Finally Know When BioWare's 'Anthem' Is Coming Out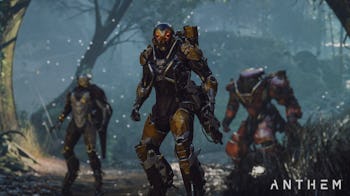 Bioware
Exactly a year ago, EA revealed an exciting new game from BioWare (the studio behind the popular Mass Effect series) called Anthem, which promised to put you in the shoes of mech-enhanced warriors who venture out beyond the fortress where a humanity holds on in a post-apocalyptic world. Now, we finally know when Anthem is coming out, along with a bunch of other awesome details. To end Saturday's EA Play event, the publisher revealed the release date of Feb. 22, 2019.
Anthem is a third-person shooter with both single-player and online co-operative multiplayer modes. You play as a "Freelancer" (BioWare's term for the game's super soldiers) and wear a customizable "Javelin" mechanical suit that gives the player various weapons and special abilities that come in four classes: Ranger, Colossus, Interceptor, and Storm.
As expected with a game from BioWare, the story of Anthem was an important point to discuss during the presentation. Even though the world is a shared world, players have their own story. Lead writer Cathleen Rootsaert said more stories can be added to the game such as missions to add to the lore or learning more about a certain character. She also mentioned that these additions to the storyline can be dropped it at any time.
During the Anthem presentation, executive producer Mark Darrah answered the question about if the game will have any loot boxes. His response was that there will be no loot boxes or any "pay for power" content. Players will be able to purchase only cosmetic items for customization.
Darrah also talked about how the game will have a mix of single-player and co-op multiplayer, but playing with other people is a choice. Players on their own will have a bigger challenge so grouping up with others will be more ideal although optional.
Anthem is a win that BioWare really needs. After the abysmal Mass Effect Andromeda, the developer that used to do no wrong has gone some time without a "hit." Players will see if Anthem is a hit or a Destiny wannabe when it releases Feb. 22, 2019.