Even Donald Glover Can't Convince Me We Need a 'Willy Wonka' Prequel
If it's going to happen, at least give the role to Janelle Monáe.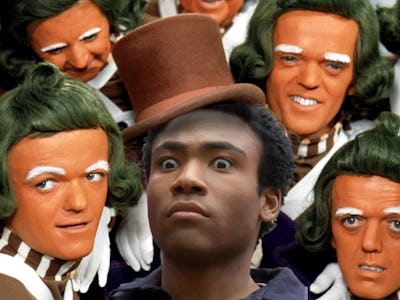 Wolper Pictures/Dan Harmon Productions
Willy Wonka is getting a prequel. The news that Warner Bros. is working on a new Chocolate Factory film actually broke earlier this year, but you may have missed the news until Collider revealed this week that the short list for actors who could play the young Wonka includes everyone's favorite actor/rapper/comedian Donald Glover, along with Ryan Gosling and Ezra Miller.
Does the idea of Childish Gambino-inspired Willy Wonka sound awesome? Absolutely. But do we really need a Wonka prequel? Absolutely not. The allure of the entire story is the mystery of where the chocolate-maker came from. Watching it all happen on the big screen would effectively ruin the original film.
Unfortunately, it sounds like that's exactly what's happening. According to Collider, the film is " rumored to be a prequel that will explore Wonka's origin story. How did he amass his fortune, and perhaps more importantly, how did he meet those Oompa Loompas?"
Look, I understand the appeal of this kind of movie. People are naturally curious about where Wonka came from (the previous movies and the original books never really cover it), but it's hard to believe that a prequel can pull this off. Instead, we'll probably end up with a fun but superficial film that ditches the mystery for an ultimately unsatisfying answer.
Unfortunately, there's probably no way to stop this train. Warner Bros. appears to be closing in on a final casting decision, and the studio hasn't shied away from needless prequels in the past (cough cough Fantastic Beasts cough cough).
At the very least, if Warner Bros. can't be convinced to leave the classic story alone before they do any more damage to it, they should at least consider casting Janelle Monáe in the titular role. As good as Donald Glover might be, there's no denying that Monáe would be even better.