The Final 'Fantastic Beasts' Movie Can Only Happen in One City  
Each of the five 'Fantastic Beasts' movies will focus on a different city.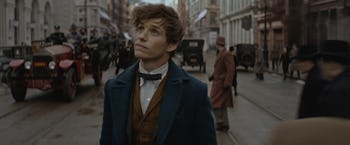 Warner Bros.
Each of the five movies in the Potterverse film series, kicked off by Fantastic Beasts and Where to Find Them, will focus on a different city, taking Newt Scamander from New York City to Paris in The Crimes of Grindelwald. Though that leaves the setting of two films a mystery, the series' conclusion has to take everyone back to London, right?
Director David Yates confirmed in an Entertainment Weekly interview published Tuesday that each Fantastic Beasts film will focus on a different city. "This is a global story, ultimately," Yates said. "And given that there's a global audience for this, it's all the more delightful to take the story to different parts of the world."
The first Fantastic Beasts explored the American wizarding world in New York City, and even though Pottermore confirmed that The Crimes of Grindelwald will feature New York and London to some extent, the primary setting will be Paris.
For all we know, the London scenes could simply be Jude Law's Albus Dumbledore recruiting Newt Scamander at his previously-teased book launch party at Flourish & Blotts before they go to France to thwart Grindelwald.
Yates confirmed he already knows the setting of the third film, straight from Harry Potter author J.K. Rowling — but Warner Bros. isn't ready to announce that just yet.
Rowling previously told Variety that the five-movie series would span 19 years, concluding in 1945, presumably with the final confrontation between Dumbledore and Grindelwald in which the former took the Elder Wand. That date also happens to coincide with the downfall of Nazi Germany.
So the fifth movie will almost certainly end somewhere in Germany, where their famous duel took place, but considering how important London has been to the greater Potterverse, it's all but certain that Fantastic Beasts 5 will take place mostly in London.
That leaves at least two films a total mystery, but chances are high that the series will stick to Europe, because historically, we know that Grindelwald stuck to the United States and Europe — especially Germany — for his campaign. That means we'll probably see a movie set in Berlin, but beyond that, we can't be sure.
But next up: We'll see Newt Scamander journey to Paris.
Fantastic Beasts: The Crimes of Grindelwald* will be released November 16, 2018.