'Hitman 2' Release Date Rumors: New Logo Appears Ahead of E3 2018
Not even Agent 47 can sneak past leakers nowadays.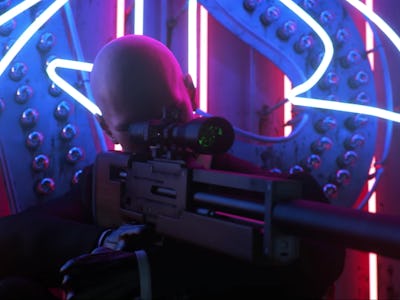 IO Interactive, Square Enix
Agent 47 is back… maybe. WB Games might have just leaked the next Hitman game. A new image for Hitman 2 discovered on the WB Games website seems to confirm rumors that IO Interactive is bringing back Agent 47 sooner than we thought.
On Monday, the official Hitman Twitter account posted a teaser hinting at a big announcement for June 7. Many fans interpreted this to mean that IO Interactive would be announcing the second season of the current Hitman game.
WB Games tweeted shortly after about a live announcement also happening on June 7. Warner Bros. Interactive Entertainment published Hitman: Definitive Edition on May 2018.
That's when fans dug through the WB Games website and found the Hitman 2 logo. The logo was eventually removed, but word had already spread throughout Reddit and ResetEra. The Reddit thread also references an article from PSX-Sense which may have gotten information about Hitman 2 several weeks before the leak, but it was also taken down after the leak continued to circulate on social media.
Beyond that, we don't have any more info. Hitman 2 could be the second season of Hitman (the first season wrapped up in November 2017) or it could refer to a brand new game.
Either way, this comes as welcome news for fans who might be worried about the franchise's future. Hitman is a cult classic among stealth fans but it's never made a lucrative profit.
After Square Enix dropped IO Interactive, the future of Hitman was put in doubt. Thankfully, IO Interactive managed to retain the rights to the series, but the next concern was finding a new publisher. That was when WB Games came in and offered IO an independent contract.
Personally, I'm glad that Agent 47 is still getting gigs. Expect to see more details about our favorite dome-headed assassin's new contracts on June 7.