Poop Transplants Can Treat Severe Cases of Diarrhea, Say Scientists
But some say the research is full of crap.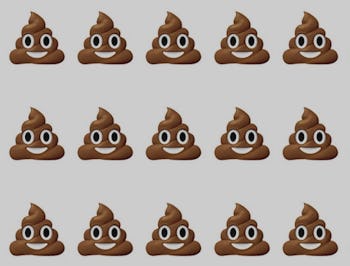 It may be hard to consider poop having healing benefits to the human body, but a new study found that fecal transplants can do a better job in curing bacterial infections than some antibiotics.
A study in the New England Journal of Medicine showed how fecal transplants can help cure a Clostridium difficile, or C. diff, infection as reported by NBC. Conducted by Dr. Frederick Juul of Oslo University Hospital and his team, a group of 20 patients were selected for this small study. Nine received the fecal transplant when they started experiencing diarrhea caused by C. diff while the rest were given antibiotic metronidazole. Five of the nine were cured by transplant while five of the 11 were cured by antibiotics.
The poop used for the transplant came from a donor with a healthy Western diet and was preserved since 1994. Doctors used an enema to implant the donated feces into the bowels of the recipient in order to spur the growth of healthy bacteria in the gut flora to fight off the C. diff. Fecal transplants are considered a last resort to help cure severe infections, but the study suggests it should be considered the first option instead. Some doctors critical of the study claim patients were given the wrong antibiotics as metronidazole is no longer effective on the bacteria and instead should have used in its place vancomycin or fidaxomicin.
C. diff is a common bacteria in feces and can make its way onto food, water, and soil. For those wondering why washing their hands after going to the bathroom is so important, this bacterium is one of the reasons why. The CDC reported 29,000 people died from C. diff infections in 2011. While antibiotics can cure the infection, the overuse of antibiotics can also cause the problem as they can kill off the healthy bacteria making the body a prime target for C. diff. Infections lead to watery diarrhea for two or more days and fever, and it primarily affects the elderly although young people have shown signs of the illness.
Dr. Juul and his team will present their findings at Digestive Disease Week, a gathering of physicians in the fields of gastroenterology, hepatology, endoscopy, and GI surgery that starts on Sunday in Washington, D.C.
Speaking of poop, astronauts have an interesting time on the toilet as they have a small target to aim for while pooping.