Spider-Man Spin-Off About Silver Sable and Black Cat Isn't Close to Ready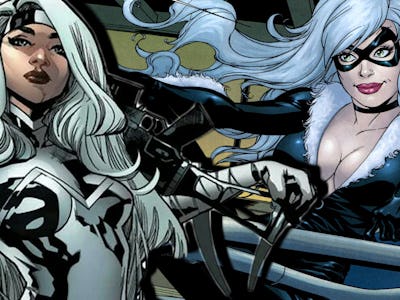 Marvel
If you thought maybe Sony was moving a little too fast when it announced it was making a standalone movie about two Spider-Man side characters who could charitably be called "B-list," it appears the decision-makers at the studio have changed their minds and agree. Sony has pulled Silver & Black from its release calendar, though it's reportedly looking for a later premiere date.
Originally, Silver & Black — which focused on the mercenary Silver Sable and the lucky burglar Black Cat — was set to hit theaters on February 8, 2019. That's less than a year away, and it's unclear from the outside how much progress the studio has made, which perhaps has something to do with the decision to strike it from the calendar, as seen in The Hollywood Reporter on Friday.
Gina Prince-Bythewood of The Secret Life of Bees is set to direct the film, and Lindsey Beer and Geneva Robertson-Dworet are working on a script, but nobody has been cast yet, which is an important step in making a movie that's supposed to come out in 8 months.
Silver & Black hasn't been canned, at least not officially, but don't expect to see it anytime soon. Sony owns the rights to Spider-Man films, but struck a deal with Marvel Studios for co-ownership of Spidey for MCU films, leaving Sony to strike out on it's own for Spider-Man-related films like the upcoming Venom. An added benefit of changing the Silver & Black premiere, for Sony, in addition to having time to actually make the movie, is that they'll be able to see how Venom does when it hits theaters in October before moving ahead with additional Spidey spin-offs.
Still no updates on that Morbius, the Living Vampire movie y'all are so eager for, though.