Green Arrow Almost Got a Totally Different, Non-Arrowverse Series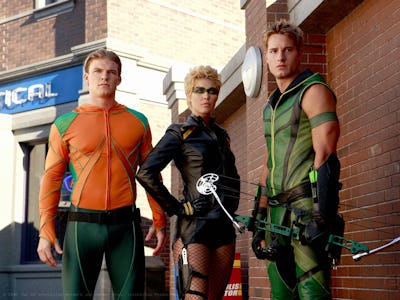 The CW
Before The CW's big bang of superhero television began with Arrow starring Stephen Amell, the Emerald Archer of DC Comics nearly had a different show set in a different universe: Smallville's.
On Monday, on the most recent episode of "Lex Luthor" actor Michael Rosenbaum's podcast Inside of You, actor Justin Hartley opened up about a canceled spinoff of Smallville titled Metropolis. The series, in a twist, would have further explored the onscreen relationship between Lois Lane (played by Erica Durance) and Oliver Queen, a.k.a. the Green Arrow, played by Hartley.
"While I was on Smallville, there were several different spinoff ideas that they had," Hartley explained in his appearance. "They wanted to do a spinoff called Metropolis or something like that, I heard whispers of that. It was Lois and Oliver in Metropolis and whatever that was."
"They were trying to extend the life of the show," he added.
Though Hartley has moved on from superheroes, the current star of This Is Us had a prominent role in the Smallville era, second to Tom Welling. Long before Jason Momoa became Aquaman on the big screen, Hartley was cast as Arthur Curry in a failed Aquaman pilot. He then portrayed Oliver Queen in a recurring role in the latter half of Smallville's lifespan.
Meanwhile, it appears DC and Warner Bros. are giving the whole "Superman origin" thing another go, and we're talking about the Syfy series Krypton either.
Slated for 2019 on the DC streaming service DC Universe, another prequel series titled Metropolis will explore the city of tomorrow "before Superman's arrival." It is currently unknown if Metropolis will share continuity with any pre-existing TV universe or create a new one.
Arrow will return for its seventh season later this fall.