Elon Musk Posts, Then Deletes Bizarre "Poopy Diapers" Tweet to Journalist
But the internet doesn't forget.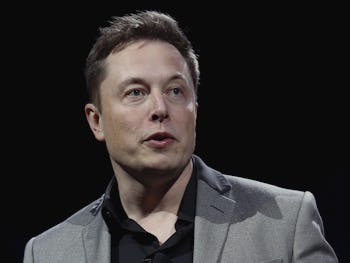 Elon Musk clearly has a lot of feelings about the media these days. Musk has recently taken to criticizing the press in Twitter rants, and a tweet that he posted on Wednesday was right on trend for the CEO of Tesla and SpaceX. In response to a reporter from The Atlantic digging up an old bio on Musk, Musk posted a bizarre tweet mentioning reporters in "poopy diapers," before promptly deleting it. And it was weird, to say the least.
In mid-May, Musk started ranting about the press and media "credibility," and he has repeatedly taken to Twitter to air his grievances against journalists and the media ever since. While many have castigated Musk for the rants, others have tweeted in agreement. Among those, the great Stan Lee tweeted his support for Musk's strange Twitter rants. (Say it ain't so, Stan!)
"Poopy Diapers"
Musk's rants took a turn for the weirder on Wednesday. Adrienne LaFrance, an editor at The Atlantic, posted a tweet that included a 1997 bio of Musk on the Zip2 website, possibly because of Zip2's work with newspapers and the media in the past in providing online city guide software. Apparently, Musk was none too pleased by this development.
Musk tweeted the following back to LaFrance:
My first Internet company had Hearst, Knight Ridder & NY Times as investors & customers. Spent years in newsrooms starting 23 years ago, back when some reporters were still babies w poopy diapers, but hey def lecture me on what a newsroom is like …
Musk later deleted the tweet, but not before LaFrance screengrabbed it and shared it on the platform.
Musk and The Media
The tweet Musk responded with was weird, and honestly, pretty gross. It's not entirely clear what he was trying to convey with the comment, especially as a reply to LaFrance. Is he saying she's a reporter who once had poopy diapers? Didn't we all have poopy diapers at some point?
Musk's Twitter has definitely been a hotbed of odd statements, not the least of which include his repeated attacks on the media and individual journalists. But this latest "poopy diapers" tweet may be the most bizarre thing he's tweeted yet — and that's saying something.