National Spelling Bee: How to Watch and Play Along This Week
Who will have the final word?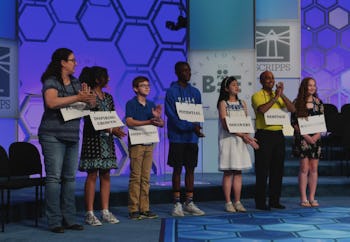 National Spelling Bee
Called "the Hunger Games of the mind," by John Oliver, the 2018 Scripps National Spelling Bee kicks off Tuesday, with finals happening later this week.
If you've never watched the Spelling Bee, given the consistently depressing state of current affairs, this might be a perfect time to start. It's just cute, earnest kids between the ages of 8 and 15 spelling their little hearts out — and they get showered in confetti when they win. The first place winner also receives a $40,000 cash prize, meaning spelling is nothing to scoff at.
When and Where
This year's bee — called Bee Week — is taking place at the Gaylord National Resort and Convention Center in Oxon Hill, Maryland. It features a record number of spellers at 516 competitors, and there are a full three days of coverage to get us to the winning kid. The preliminary competition began at 9:15 a.m. Eastern on Tuesday, and the final competition will get going by 8:30 p.m. Thursday.
Round 2:
Tuesday, 9:15 a.m. — 5:20 p.m. on ESPN 3
Round 3:
Wednesday, 8 a.m. — 5 p.m. on ESPN 3
Finals, Part 1:
Thursday, 10 a.m. — 2 p.m. on ESPN 2
Finals, Part 2:
Thursday, 8:30 p.m.- 10:30 p.m. on ESPN
How to Watch
You can watch the events on cable, or they can be streamed online with a cable provider via Watch ESPN, as well as the ESPN app. The National Spelling Bee Twitter account is also live-tweeting the competition.
Play Along
Scripps and ESPN have collaborated on a website that will let you play along with the competition as it happens. You can sign in online here.
What's in a Word?
Last year's trophy rested on spelling the word marocain (pronounced \MAR-uh-kane), which is "a ribbed crepe fabric used in women's clothing." Twelve-year-old Ananya Vinay managed to successfully spell the obscure textile noun, confirming her the big trophy and a whole lot of cash. Other wild words from last year's final rounds included:
Gifblaar: (pronounced \ˈgifˌblär) a perennial shrub (Dichapetalum cymosum) of southern Africa that is deadly poisonous to stock.
Wayzgoose: (pronounced \ˈwāzˌgüs) a printers' annual outing or entertainment.
Naassene: (pronounced \nāˈaˌsēn) a member of one of the Ophite group of Gnostic sects noted for its worship of the serpent as the principle of generation.
Durchkomponiert: (pronounced \¦du̇rḵˌkȯmpō¦ni(ə)rt) having an individual musical setting for each stanza or strophe — used of a song or aria.
Spiegeleisen: (pronounced \ˈspē-gə-ˌlī-zən) a composition of iron that contains 15 to 30 percent manganese and 4.5 to 6.5 percent carbon.
Cecidomyia: (pronounced \ˌsesədōˈmī(y)ə) a very large genus (the type of the family Cecidomyiidae) of gall-forming midges.
Mogollon: (pronounced \ˌmə-gə-ˈyōn, ˌmō-) a prehistoric American Indian people inhabiting the mountains of eastern Arizona and western New Mexico.
Impressive stuff.