Alan Bean Took a Mind-Expanding Picture of Earth During Apollo 12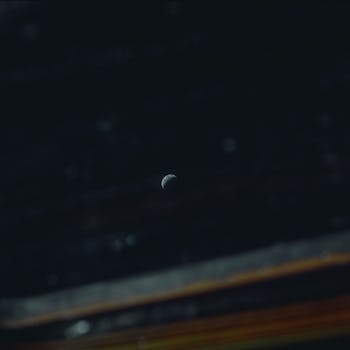 NASA / Alan Bean
Before Alan Bean's death at age 86 on Saturday, the astronaut blazed a trail for the space travelers that would succeed him. He was one of only twelve people to have walked on the moon and one of the first Americans to live aboard a space station. After retiring from NASA in 1981, he devoted his time to chronicling humanity's first exploration of another world in paintings.
But long before trading his spacesuit for a paintbrush, Bean had already been dabbling in the arts. During the 1969 Apollo 12 mission, he took a picture of Earth as he rocketed towards the moon. So right before Bean became the fourth moonwalker in history, he managed to snap a perspective-changing photo of our home planet only three years after the first picture of the moon from Earth was taken by NASA's Lunar Orbiter.
Join our private Dope Space Pics group on Facebook for more strange wonder.
This picture was taken 21 years before NASA's famed "Pale Blue Dot," which was taken by NASA's Voyager 1 when it was 3.75 billion miles away in 1990. While this wasn't the first or the farthest picture of Earth taken in space, it still served as a depiction of how infinitesimal our planet is compared to the vast vacuum of space.
The realization of just how small the Earth in the grand scheme of things has been reported to cause a cognitive shift in awareness for some astronauts, a change known as the overview effect. This refers to seeing firsthand how truly vulnerable our planet is floating in the void.
While there is no evidence that Bean experienced the overview effect himself, astronauts Scott Kelly and Chris Hadfield along with many others have all reported this mind-expanding experience.
So while Bean's portfolio of painting might be pretty mind-blowing, the work of art he captured in space might just be his masterpiece.