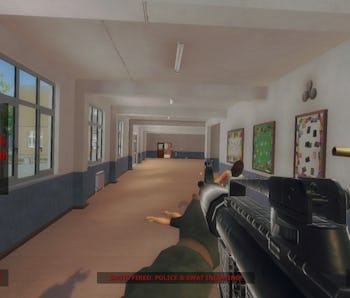 Gaming
'Active Shooter' Video Game: Why a Protest is Gaining Steam
It's a bad game in more ways than one.
Steam
A soon-to-be-released video game on Steam caused some outrage over its depiction of an active shooter scenario leading to a petition asking for the game to be pulled from the platform.
A Change.org petition started on Friday in response to a PC game called Active Shooter. The petition claims the game is a school shooting simulator and has more than 12,000 signers. The developer responded to the criticism saying the game "does not promote any sort of violence."
Developed by Revived Games, Active Shooter's Steam page describes the game as a "dynamic SWAT simulator" allowing players to play as a SWAT team member or an active shooter. The setting shown in the game's trailer and screenshots does appear to be a school that has civilians running for their lives.
The game itself appears to make use of free, pre-made assets in order to make a simple, easy-to-produce game called "asset flipping." There are a growing number of these particular kinds of games that sell for only a few dollars and take a short time to develop.
Since December 2017, Revived Games produced seven games with titles such as Tyde Pod Challenge and White Power: Pure Voltage. Each game's description details a game that doesn't match up with what one might assume based on the title alone.
The developer's games appear to be released in time with certain current events such as AltCoin, a cryptocurrency simulator released last January during the height of Bitcoin's value. There's also Zucc Simulator that has players' controlling a half-human and half-robot named Mr. Zucc, an obvious reference to Facebook CEO Mark Zuckerberg and was released weeks after his testimony in front of Congress.
Active Shooter is set for release on June 6. In their post, the developer said they've contacted Valve about the game and will likely remove the option to play as the shooter.