FBI Says Man Accused of 'Call of Duty' Swatting Death Made Bomb Threats to FCC
Tyler Barriss is charged with making a bomb threat during the net neutrality vote in December.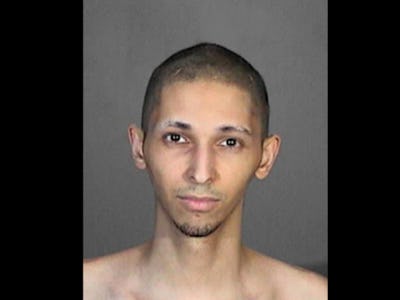 Glendale Police Department
The man believed to be responsible for the 2017 "swatting" death of a Kansas man is now being charged with orchestrating a bomb threat that interrupted the Federal Communication Commission's controversial vote on net neutrality last December.
On Thursday, the U.S. Attorney's Office for the District of Columbia announced that Tyler Raj Barriss, 25, of Los Angeles, has been indicted by a federal grand jury on two counts of making hoax bomb threats. The first relates to a December 14 incident, when a bomb threat was called in during the FCC's controversial vote to repeal net neutrality. The caller had stated that there was a device somewhere in the room, prompting a brief evacuation of FCC members as well as press covering the vote as security swept the room with search dogs.
The second incident occurred on Dec. 22, 2017, when Barriss allegedly called FBI headquarters and issued a similar threat, stating that explosives were placed inside and outside of the J. Edgar Hoover Building. Security responding to the scene determined again that it was a hoax.
Barris is already in custody for his alleged involvement, along with Shane Gaskill, 19, and Casey Viner, 18, in a swatting scheme that led to the death of Andrew Finch on December 28. The incident stemmed from an online beef in the game Call of Duty: World War II. According to court documents, Gaskell and Viner allegedly got into a dispute within the game, and Viner asked Barris to "swat" Gaskell. Swatting is a known practice within the gaming community: It's described as the act of making a prank 911 call in order to send a hefty number of armed police to a specific address, in order to mess with gaming opponents.
Barris — who has an insanely prolific history of calling in phony threats — allegedly called 911 for Viner and reported a completely fake hostage situation at an address in Wichita, Kansas, where they believed another Gaskell lived.
However, it was Finch, 28, who answered the door, and was fatally shot by Wichita police. According to messages sent online, Barris asked Gaskell if police had shown up at his house, to which he replied, "they showed up to my old house that we own and rented out. We don't live there anymore bahahaha." After realizing the seriousness of the situation, the three attempted to delete their conversations, and are now being charged with obstruction of justice, among other crimes. Gaskill and Viner are scheduled to appear in court on June 13.
Barris is being charged with manslaughter for the Kansas shooting. Each of the federal charges announced Thursday also carry a maximum of 10 years in prison, as well as potential fines.