'Call of Duty' is Officially Going Back to WWII
It's back to the birth of modern warfare for the franchise.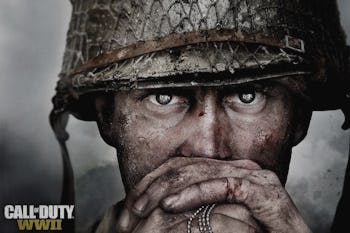 Call of Duty has gone to the moon and back to fight zombies, but now it's going all the way back to its humble 2003 roots; that's right, the next entry in the beloved first-person shooter will take players back into the trenches of World War II.
Game publisher Activision warned back in February that the franchise would go "back to its roots" for its next game, due out by the end of this year, but this is the first official confirmation that the next entry in the franchise would return to WWII. It's a bold new direction for Call of Duty, which is no doubt looking to ride the wave of success Battlefield 1 has enjoyed by returning to historical conflicts.
The news came today, directly from Activision itself, which included the official title — Call of Duty: WWII — and also a tease for the "Worldwide Reveal" next week on Call of Duty's official website.
Call of Duty: WWII is in development from Sledgehammer Games, one of three studios working on Call of Duty games in rotation, with their last entry being Advanced Warfare, which features some of the most futuristic technology in the series to date.
There is no official release date for Call of Duty: WWII, but we can expect its release later this year and more information to come out of the worldwide reveal on Wednesday, April 26 at 1 p.m. Eastern.