This Tiny Projector is the Ultimate Media Machine
The Nebula Capsule is the portable movie theater of your dreams.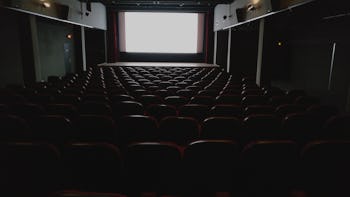 Unsplash / Julien Andrieux
When I'm not plying my trade at Inverse dot com, regaling readers with the very best deals on Amazon, the very longest iPhone cords, and the very best not-$200 sunglasses, I like to watch and write about movies. My favorite genres are horror, and what could fondly be called "boring" films. Good examples of that from last year include Phantom Thread, a two-hour long masterpiece about being rude at breakfast, and The Beguiled, a stunning movie about Colin Farrell being so hot it ruins everyone's life.
Watching movies is fun, but it can also feel like a chore when you're thirty minutes in and you know you've got a lot more to go, and your phone is right there in front of you, begging to be checked. Instagram and its exotic wares just a click away. To combat boring movie fatigue, I decided to invest in a projector, so that the experience becomes that much more cinematic, and I'm less inclined to click out of my Netflix window to look up pufferfish or some other nonsense on Wikipedia.
I spent a long time researching all your basic kinds of projectors: super bright, 4K HD ones that cost more than a month's rent and would require their own sturdy wall mounts. Cheapo ones with a perceived resolution of "5" better suited for a slideshow meeting at the world's worst company in 1979, and the tiny, portable ones. That's how I stumbled upon the Nebula Capsule Smart Mini Projector.
The Nebula is small, but mighty. Its the rough size, shape, and weight of a full soda can (okay, maybe a little heavier), yet packs every single feature a casual movie fan could ever want or need. It has a remote, a solid HDMI port, and some surprisingly robust built-in speakers. Not only that, but a built-in collection of android-powered apps means you can stream from Netflix, Hulu, and a bunch of other services, without connecting the device to anything other than a Wifi network.
There are, of course, trade-offs. This is not the heavy-duty personal theater of your dreams, boasting a native resolution of 480p. Still, that's more than enough for movie nights to feel that little bit more special, and the capsule's battery life of four hours of video playback means you won't be scrambling in the dark for a cord halfway through the show. It's also not cheap, clocking in at over $300. Luxury (and convenience) has its price.
Caveats aside, you won't find a more seamless ultra-portable projector anywhere on the market. The Nebula Capsule will change the way you watch movies, and it looks damn fine doing it, too.