Bendgate: Apple Knew About iPhone 6 Issues Before Release, Documents Claim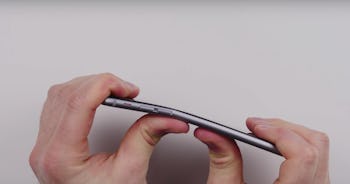 YouTube
Many of us will recall the great Bendgate saga of 2014, when new iPhone 6 and iPhone 6 Plus users began noticing something fishy about the phone's durability. Indeed, as many reported, sitting on or crushing the phone could result in its bending — an issue that could lead to poor functionality. It turns out Apple may have known about iPhone 6's malleability before its release, according to internal documents.
On Thursday, court documents obtained and released by Motherboard relating to a class-action lawsuit about so-called "touch disease" — which describes poor touchscreen functionality following stress — indicated that Apple knew the iPhone 6 and iPhone 6 Plus's potential to bend.
Internal tests conducted prior to those models' releases showed that the iPhone 6 was 3.3 times as likely to bend than the iPhone 5s, while the iPhone 6 Plus was found to be 7.2 more likely to bend than Apple's previous model.
As Motherboard notes in its report, Apple said in November 2016 as well as in its defense in the lawsuit that it found the source of user reports of touch disease to be repeated dropping and "incurring further stress on the device." Its Multi-Touch Repair Program for the iPhone 6 Plus offers to fix phones "in working order" for just under $150. The company has long maintained that the phones met its own test standards for functionality and endurance, though it did later start using a stiffening epoxy in its models.
If you somehow missed Bendgate and need a refresher on how bad this really looked for Apple, Unbox Therapy hit YouTube in 2014 with a pretty damning illustration of just that. It's since garnered over 70,000,000 views:
While bending didn't necessarily cause immediate trouble for users with the earlier models, many argued it ended up cause them trouble down the line.
Apple did not return Motherboard's request for comment about its report. But should the tech titan break its silence on Bendgate, we will definitely let you know.