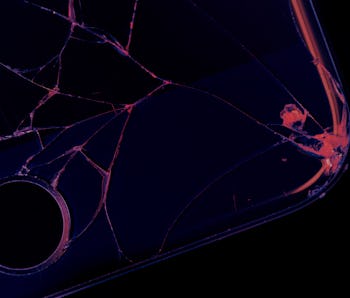 Innovation
iPhone X Camera Lenses Cracking, Users Say — And Apple Is Charging Big Bucks to Fix
Unsplash / Agê Barros
Is crackgate the new bendgate?
Upon release, the iPhone X's camera delivered some nifty A.I. capabilities, like Portrait Mode. But months after launch, users say they're experiencing the same annoying camera issue that costs hundreds to fix: a cracked lens.
Multiple users on Reddit and Apple's support forum have complained about their camera lenses mysteriously cracking — and not after dropping the phone. Some claim it was caused by cold weather and others argue it's a design flaw. While the cause of this problem is unclear, one thing remains constant: Apple is asking for big bucks to patch up these lenses.
"Bought iPhone X right before Christmas, and found a crack on the rear camera glass last night," writes fangfromaustin on Apple's discussion board. "The phone has been used with cover all the time and no drop or accident. Went to Apple Store this morning and was told to pay $549 to have it fixed."
But customers in warmer climates have also reported similar cases.
"[I] went to local Apple Service Center they [insisted] I drop my phone," explained andyng0131. "But [there isn't] a scratch at all on the outer glass covering the camera lens. I read some people have this issue in cold climate, I live in Malaysia and weather is hot and humid around 32 [to] 36 Celsius daily."
This is not a new issue. The iPhone 7 camera lens was tested to be less durable than traditional sapphire watch faces. But the price to repair this issue has significantly increased.
Apple offers a one-year limited warranty on all iPhones upon purchase. The company also offers a two-year premium warranty, called AppleCare+, which costs $249 for the iPhone X.
The standard warranty will only give you access to screen repair for $279 and only if it was not "due to accidental damage or mishandling." All other damage will run you $549 to repair, which is the starting cost of a brand-new iPhone 7. The cost to repair "other damage" on the iPhone 7 is priced at $319 — more than $200 less than iPhone X repair.
According to the description of AppleCare+, the insurance will fix screen damage for $39 and repair everything else for $129, possibly including "applicable tax."
So it seems like Apple is willing to help, but it'll come at a hefty price. But if frustrated iPhone X buyers keep reporting the issue and raising a stink, Apple may opt to acknowledge the issue and offer a better solution if it wants a trouble-free launch of the iPhone X's successor in September.