The Obamas and Netflix: The Internet's 15 Best Show Ideas
The internet has some pitches for the Obamas.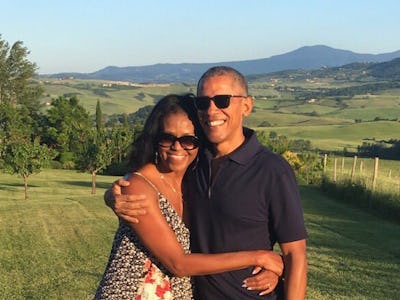 Twitter
Netflix announced a multi-year deal with President Barack Obama and his wife Michelle on Monday. The two will act as producers for an upcoming series or film, but no specifics have been made available although plenty of people have some potentially great ideas.
When the streaming service made the announcement about the deal with the Obamas, those people who were not a fan of the former President proudly tweeted about how they're canceling their Netflix account. On the other hand, admirers of the Obamas shared their excitement over social media and offered some ideas of what shows they'd want to see, ideally featuring the former first couple.
15. An Obama Development
Hopefully, President Obama is a fan so he can keep it around for another season.
14. Call It *The Oval Office"
Does this mean Ricky Gervais would get a piece of another show?
13. "Michelle"
Surely no one would have a problem with this.
12. Someone Get Lin-Manuel Miranda on the Line
Unlike Alexander Hamilton, President Obama won't have to wait 200 years for have his own musical.
11. Netflix Knows Documentaries
Will it be serious like Making a Murderer or fun like The Toys That Made Us?
10. "If You Smell What the Rock Obama Is Cooking!"
You wouldn't like him angry.
9. Queer Eye for the President Guy
A little wardrobe advice couldn't hurt.
8. Let's Hope Not
Although President Obama would probably enjoy having NBA players hanging around the house.
7. Happy Obama? The Water President?
It doesn't matter because Adam Sandler's fans will watch it a dozen times.
6. Dr. Obama
Or maybe more like the Oprah Show.
5. My Name is Barack
It's like My Name is Earl, but instead, he didn't do anything wrong in the first place.
4. Just Call It "44"
In case he wants more cameras to follow his every move.
3. Michelle the Vampire Slayer
The President can be her Watcher.
2. "Get Off My Plane!"
Will the President curse as much as Samuel L. Jackson?
1. Barack and Joe Are on the Case
This could go different ways. Maybe this is a little like X-Files or like an Scooby-Doo series.