Royal Wedding: UK Could Get 5 Percent Drunker Thanks to Extended Pub Hours
Cheers to the Duke and Duchess of Sussex.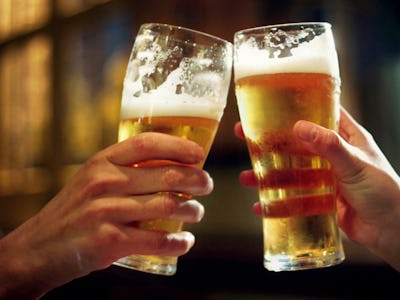 Wikicommons
Knowing that the marriage between Prince Harry and actress Meghan Markle would inspire many to give a toast, British Parliament extended pub hours across the United Kingdom on the weekend of the royal wedding. These relaxed pub laws will do more than just keep the fun going into the wee hours of the night. The British Beer & Pub Association (BBPA) is predicting a 5 percent bump in beer sold on the special day.
The newly titled Duke and Duchess of Sussex were married on May 19, drawing audiences worldwide. Those who were not able to attend could cheers with other Britons at any one of the United Kingdom's 50,300 pubs, where venues are officially allowed to stay open an extra two hours on Friday and Saturday. By law, British pubs close by 11 p.m. local time but last call won't be until 1 a.m. this weekend.
Those extra four hours in total are expected to yield huge profits for an industry that has seen a steady decline in earnings over the last decade, which BBPA says is due to a 39 percent rise in beer tax. Sales in pubs and bars fell by 2.4 percent last year, which is the equivalent of Brits drinking 88 million fewer pints in 2017 than in 2016.
But nothing helps bartenders tap their kegs quite like a royal celebration. During Prince William and Kate Middleton's wedding in 2011, the extended pub hours accounted for a 5 percent uptick in beer sales across the UK. The same growth is expected this weekend, meaning Britons will be drinking close to 100 million pints in just two nights.
Pubs are also ensuring steep bar tabs and royal hangovers with signature brews created to honor the newlyweds. The Hogs Back Brewery in Surrey is offering a "Hoppy Ever After," a golden beer that is billed as the "perfect marriage of American centennial and English cascade hops." Similarly, Channel Islands' Liberation Brewery launched a "Meghan's Sparkle" beer, blending British and American hops with a hint of ginger.
Despite declining sales at local pubs, the World Bank still ranks the UK 12th in the world for total alcohol consumption per capita. The estimated 100 million pints served this weekend at pubs will help the country continue in that tradition.