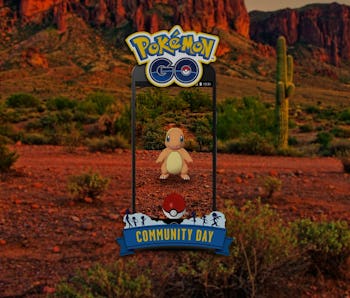 Entertainment
'Pokemon GO' Community Day: Start Time, Locations, Rewards, and More
Get yourself a Charmander.
Niantic Labs
The fifth Pokémon GO Community Day is starting soon, and this time, Charmander is the star. Players will have an increased chance to catch the fiery Pokémon during the three-hour window, learn a new move exclusive to the event, and potentially evolve one of the most powerful Pokémon in the game.
Community Day starts on Saturday, May 19, at 2 p.m. to 5 p.m. Eastern. During this time, Charmander will spawn in huge numbers, lures will last for three hours, and trainers will receive triple the amount of Stardust from catching Pokémon.
You can catch Charmander pretty much anywhere, but your best bet will be to head to a local park. Even better, team up with your friends or find a local group of like-minded players — that's the whole point of Community Day. A simple Internet search will probably turn up groups in your area organized on Facebook and Reddit. You can also use the League Map on The Silph Road to find Discord channels of your local groups.
Niantic Labs confirmed that Blast Burn will be the event's exclusive ability. This can only be learned by evolving a Charmander into a Charizard during the event, which you should definitely do because it will be really, really strong. A Charizard with Blast Burn is projected to be the most powerful non-legendary Fire-type Pokémon in the game, and the second most powerful Fire-type overall after Moltres and Entei.
Some intrepid dataminers have also discovered that Niantic Labs has added assets for Shiny Charmander, Chameleon, and Charizard into the game ahead of the event. This is more a confirmation than a revelation, since Niantic Labs has always added Shiny versions to their Community Day Pokemon without ever confirming their existence prior to the events.
Saturday is your only chance to get yourself a Charmander that can do both — a monstrously powerful, meta-busting Fire-type Pokémon with a unique steel-grey skin. So, get to it, would-be Pokémon Masters.