Senate Democrats Win Vote to Save Net Neutrality, Squash Lousy FCC Plan
Lawmakers are starting to vocally support an open internet.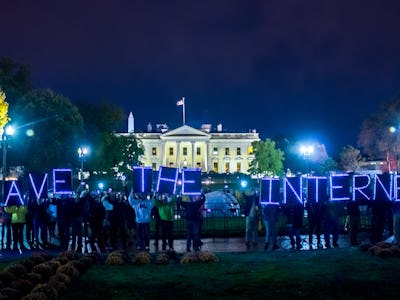 Flickr / joseph.gruber
On Wednesday afternoon, Senate Democrats managed to pass a bill aimed at stopping the Federal Communications Commission from repealing net neutrality regulations — with the help of some notable Republican support.
After a few opening remarks early Wednesday, Democratic Senator Ed Markey filed a motion to advance to vote on whether Congress should pass a Congressional Review Act that would shoot down the FCC's poorly named "Restoring Internet Freedom" plan. The vote to move forward passed 52 to 47. Later in the day, the proposed bill passed by the same numbers.
The joint resolution had largely been expected to pass prior to Wednesday's debate. With Senator John McCain absent, Democrats only needed 50 senators on board to pass the resolution; that included all 49 expected Democrat votes, and one Republican, Senator Susan Collins of Maine, already on board. But Republican Senator John Kennedy of Louisiana made the advancement tally up to 51, and later, a vote from Lisa Murkowski of Alaska added more Republican support, exemplifying how net neutrality has managed to become something of a bipartisan issue.
While the joint resolution still faces an uphill battle in the House, Democrats were eager to put the issue on the floor to show their support for an open internet in an election year. Subsequently, the move also put Republicans on the spot to put their weight behind the FCC's plan — or not.
Why Bother with a Bill?
It's unlikely that Wednesday's joint resolution will make its way past a Republican-controlled House vote, and even more unlikely that a signature could come from the desk of President Donald Trump, who appointed FCC chairman Ajit Pai in 2017. Still, Wednesday's vote manages to keep the debate on net neutrality on the political stage and in the public eye. While it doesn't offer a direct solution as to how to properly regulate the internet — Congress desperately needs to come up with some adequate legislation for that — it publicly lambasts Pai's plan, reminding voters that the FCC's current proposal on how to regulate the internet leaves a lot to be desired.
What's at Stake?
Wednesday's joint resolution aims to nullify a new regulatory plan passed by the FCC back in December. Spearheaded by FCC chairman and mug maniac Ajit Pai, the "Restoring Internet Freedom" plan eases regulatory restraints on internet service providers and would allow them more control over the internet content they provide to customers. Under the FCC's plan, ISPs could force consumers to pay more for certain web content and speeds, as well as require web-based businesses to pay tiered prices to access internet users. Critics are concerned that the "Restoring Internet Freedom" plan will encourage ISPs to block users from being able to access web content that competes with an ISP's business affiliates or doesn't directly profit them.
Pai's plan was expected to go into effect in April, but it was stalled as crucial parts of the plan awaited approval from the Office of Management and Budget. The FCC recently announced it had received OMB approval, and the plan is slated to go into effect June 11.
Correction 5/17/18: In the original version of this article, it was stated that there was no date for the commencement of the Restoring Internet Freedom plan, when, in fact, it has been announced as June 11. This article has been edited to reflect that fact.