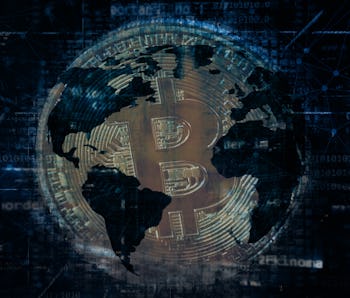 Innovation
Microsoft Details Blockchain-Powered Global IDs to Fight for Human Rights
The company is using Bitcoin's technology to develop something new.
Flickr / Free For Commercial Use (FFC)
Microsoft wants to use the blockchain — the same digital ledger system that logs Bitcoin transactions — to help over a billion people fight for their human rights.
The company is building an open source project, working with the Decentralized Identity Foundation to create a global identification system and solve one of the biggest issues in computing today.
Unlike a regular system administered by a central server, blockchains are public ledgers of data spread out over a global network of nodes. Every computer has to agree to add new blocks to the chain, preventing against hacker attacks. This makes it ideal for cryptocurrency because computers only need to trust the network rather than each other. A blockchain-based identity system would protect against central authorities making arbitrary changes, as opposed to regular systems that can leave refugees in a stateless limbo fighting for their basic rights.
"Everything we talk about, I attended this conference, the golf scores I like to play…all of these things account for my identity," Ankur Patel, principal program manager at Microsoft, told the audience during a presentation on Wednesday at CoinDesk's fourth annual Consensus blockchain conference at the New York Hilton Midtown. "However, all of this data doesn't belong to me. It belongs to those apps and services. The net result here is an endless breach of my personal identity."
The project comes at a pivotal time for identity and security, as public attention turns to Facebook's handling of data in the wake of the Cambridge Analytica scandal. Last month it was revealed some 87 million people may have been affected, which allowed the firm to run targeted ad campaigns for politicians like President Donald Trump. The European Union's General Data Protection Regulation, which will be enforced from May 25, aims to give citizens more control over their data. Patel sees GDPR as "a good first step," but more needs to be done: "Data has already been sold seven different ways to Sunday," he said.
Patel gave the stage to Matthew Hailstone, a solutions architect from Brigham Young University, that showed how Microsoft's technology could enable a student to show proof of her degree to employers. It enables graduates to link their BYU account to a decentralized ID using a smartphone app. The student doesn't have to contact the university, the university doesn't need to act, and the employer has clear proof of the diploma.
Such an identity system needs to consider a variety of issues. It needs support for revocation, with the example given of the five universities that revoked Bill Cosby's honorary degrees after his sexual assault conviction this year. It also needs to record that revocation, though — Patel gave the example of the nearly 700,000 stateless Rohingya refugees that fled Myanmar last year.
"It's like they don't exist!" Patel said. "Once upon a time, they were perfectly fine citizens of the world, or for that country. But some political or cultural context changed, and they no longer have any piece of paper that can prove to somebody that once upon a time I was a good citizen and everything was fine, and there will be some other part of the world who would care for them, so how do we design for that?"
Patel notes there are more than a billion people in the world without the paper trail that comes from being "part of this large machine that makes a lot of economic wealth." The company announced in January plans to participate in the efforts to come up with a digital identity for displaced people, including refugees. This initiative helps move the project past the nearly four billion people on the internet.
The announcement comes three months after a blog post that detailed its plans to use the blockchain for identity. The post attracted widespread attention for its implicit support for off-chain technologies, an ongoing debate in the cryptocurrency world between supporters of Bitcoin's off-chain Lightning Network and Bitcoin Cash's on-chain improvements to the original design.
Microsoft plans to announce further details within the next 90 days, setting a pattern for updates with its progress. In that time the company hopes to make progress on ease of use, performance, scalability, and the ability to join, collaborate and contribute.