Mother's Day: Why the Woman Who Invented It Said She Regretted It
Anna Jarvis spent her final years fighting the floral industry.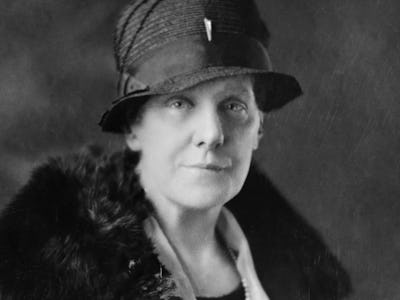 Wikicommons
There's a reason why "mother" is singular in Mother's Day. Founder Anna Jarvis wanted it to be a simple and personal event to celebrate "the best mother who ever lived: yours." But as the holiday became more commercialized, she began to protest the very institution she helped establish.
Google honored Mother's Day with a doodle on Sunday, celebrating the holiday for its 18th consecutive year. It's uncertain whether the holiday's founder, Anna Jarvis, would approve of such innovation since she spent most of her life speaking out against the way the public came to celebrate Mother's Day.
When Jarvis's mother died on May 9, 1905, she remembered her mother's wish to have a day dedicated to honoring mothers. Jarvis soon began campaigning in her hometown of Grafton, West Virginia, where she hosted the first Mother's Day celebration at the local Andrews Methodist Episcopal Church. The local celebrations quickly garnered national attention and spread through the region, and by 1914, President Woodrow Wilson signed a bill recognizing Jarvis' Mother's Day as a national holiday.
But almost instantly, Jarvis began to hate how the day was celebrated. Once it became an official holiday, commercialization went into immediate effect, and Mother's Day soon became synonymous with flowers and gifts rather than the quiet dignity of motherhood as Jarvis had once envisioned.
By the 1920s, the floral industry was increasing its production of white carnations as a symbol of the holiday. While Jarvis tried to maintain the sentimental nature of the holiday, often speaking about her own mother to the public, she found it difficult to fight the large US industries that wanted to commodify the holiday.
Jarvis was vocal about her regret and went so far as to campaign against the holiday she created. She protested outside of florists and spoke out against holiday marketing strategies. Her protests were seen as public disturbances and she was frequently arrested.
Still, she continued to speak out against her own holiday for decades. She tried to sway the public against the newly formed tradition of flower arrangements and greeting cards. She also ridiculed Eleanor Roosevelt when she used Mother's Day as a way to promote the health and welfare of women and children. In 1943, she went so far as to organize a petition to rescind Mother's Day.
Sadly for Jarvis, her activism failed to change the minds of the floral industry. Her petition came to a halt when she was placed in the Marshall Square Sanitarium in West Chester, Pennsylvania. According to Olive Ricketts, director of the Anna Jarvis Museum, people connected with the floral and greeting card industries paid to keep her in the sanitarium.
The "troublemaking" activist died at the Marshall Square Sanitarium in 1948 and is buried next to her mother. Jarvis's final years were full of strife, where she fought to protect the sentimental nature of her created holiday.
It's estimated that Americans will spend $23.1 billion on Mother's Day this year.