'Power Rangers' 1995 Movie Comes to Blu-ray, Finally, in an Awesome Way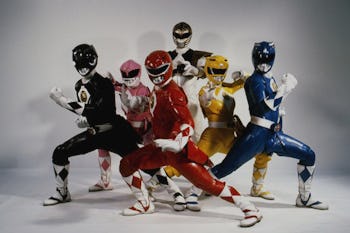 Saban Brands
If last year's Power Rangers movie didn't cut it for you, there is always the original Mighty Morphin Power Rangers: The Movie from 1995, a cult classic for nostalgic millennials. Unfortunately, the film has only ever been available on DVD, and it's been out of print — until now. On August 7, the original Power Rangers film hits Blu-ray for the first time in a $160 steelbook reissue of Shout! Factory's Mighty Morphin Power Rangers: The Complete Series DVD set.
On Wednesday, Shout! Factory announced a 25th anniversary edition of its Mighty Morphin Power Rangers DVD set, which will mostly be a rerelease of the first DVD set from 2012 that marked the show's twentieth birthday. But unlike the original set, the new release will come in sleek black steelbook covers.
It will also have the 1995 Power Rangers movie on Blu-ray, the first time the film is ever being released on the format. And because it's Shout! Factory, the Blu-ray has a new documentary retrospective featuring new interviews with director Bryan Spicer, Johnny Yong Bosch ("Adam"), and Paul Freeman ("Ivan Ooze"). The set will not include 1997's Turbo: A Power Rangers Movie.
Set in an alternate timeline parallel to the TV show, the 1995 Power Rangers follows the six teenage superheroes on a quest to find a new power source when the villain Ivan Ooze (played by Paul Freeman) takes over Angel Grove.
In 2012, after fans had been demanding it for years, Shout! Factory obtained the rights to produce DVD sets of the entire Power Rangers TV series up through 2011's Power Rangers Samurai. Ironically, before 2012, the only DVDs Power Rangers fans could get were bargain-bin versions of the 1995 and 1997 films.
There were also DVDs of recent TV episodes, which rarely released a whole season and left fans with incomplete collections. The DVDs were released for the show's 20th anniversary, and contained bonus features that had new interviews with the original cast, producers, and writers.
As for Blu-ray, the only Blu-ray of anything Power Rangers were 2012's Power Rangers Super Samurai and the 2017 reboot movie. While the theatrical run of Power Rangers was mediocre, it fared a little better on home video.
Mighty Morphin Power Rangers: The Complete Series (25th Anniversary Edition Steelbook) will be released on August 7.