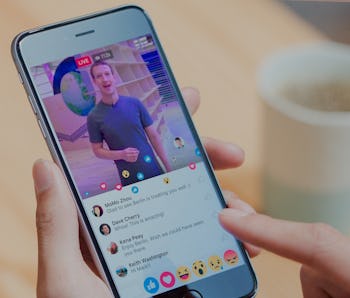 Innovation
Facebook's Blockchain Plan Has the Cryptocurrency World Cautiously Excited
Facebook is delving into the tech behind Bitcoin. It could be the start of something new.
Facebook
The cryptocurrency community was in a mood of cautious optimism on Wednesday as Facebook announced its plan to research blockchain — the technology that underpins Bitcoin and similar projects. David Marcus, former head of the Messenger division, will oversee a small group to explore the idea further.
"Firstly, Facebook establishing a blockchain team is really promising and encouraging for the industry," James Tabor, CEO of MEDIA Protocol, tells Inverse. "It seems feasible that they will turn user accounts in a cryptocurrency wallet. If so, this is great news and another great example of enterprise adoption, which is exactly what's needed in the space."
The rollout also received a cautiously positive reception in communities like Reddit.
"I get this warm feeling that no matter what, Bitcoin cannot be bought," a Reddit user called tranceology3 wrote on the Bitcoin subreddit. "Decentralization is amazing, it will truly disrupt all these centralized tech companies."
Marcus' move is not entirely surprising. He founded mobile payments startup Zong in 2008 and served as CEO until it was acquired by PayPal in 2011. In 2014, he moved from his position as president of PayPal to head up the Facebook Messenger team, just as it started to expand into payments to chatbots operated by third parties. In December 2017, at the height of Bitcoin's price surge, Marcus joined the board of directors for major cryptocurrency firm Coinbase.
"It's hard to tell what exactly to make of David Marcus' blockchain announcement," Trevor Gerszt, CEO of Coin IRA, tells Inverse. "It's obvious that blockchain has many business uses, which is why more and more major companies are exploring it. But it's not clear whether Facebook wants to use blockchain to improve internal business processes, protect user data, enhance the user experience, or develop new products. We can certainly speculate about the possibility that Facebook might try to develop its own cryptocurrency or trading platforms for its users to trade cryptos or tokens, but without further information that's just pure conjecture."
While it's unclear what the team will actually do, there's been some tantalizing hints along the way. Chamath Palihapitiya, a former Facebook executive and the founder of major Silicon Valley venture capital firm Social Capital, dropped a major hint in a 2014 fireside chat that a Facebook secure wallet "would be a game changer for Bitcoin overnight." CEO Mark Zuckerberg said at the start of this year that he was "interested to go deeper" int cryptocurrency as a means of putting power into people's hands. Marcus noted how Messenger has moved from 300 million users to well over a billion under his leadership while also introducing features like peer-to-peer payments.
"Certainly given Marcus' history with Coinbase, PayPal, and Messenger, out first thought would be the possibility that Messenger could be the vehicle for a new blockchain-based payment app," Gerstz says. "But it's doubtful that would have any major effect on blockchain technology itself since payment settlement is already a well-known use of blockchain."
Redditor montclearman noted that with 1.7 billion users, a Facebook-backed blockchain could become the largest store of data using the technology to date. The question remains how centralized such a system would be, considering Facebook's approach so far to data storage on a central set of servers.
Not everyone is on board with the idea. Citing the company's questionable privacy record, which came under fire earlier this year when a whistleblower revealed how Cambridge Analytica got its hands on 50 million users' data, some community members dismissed the project as "the only thing less secure than your privacy" and Facebook as "all about monetization and ownership of personal data."
"Blockchain without a crypto is basically a fancy database with a chain of evidence system," Reddit user Ttatt1984 wrote. "Will Facebook ever become decentralized? Not in your dreams."
"Mainstream adoption of blockchain technology is exactly what's required to prove the skeptics wrong and to help more people to understand the important part that blockchain technology can play in a range of industries, not just finance," Josh McIver, CEO of ULedger, tells Inverse. "It's still unknown what exactly Facebook plans to do but in light of their recent data scandals, encrypting user data through a blockchain would be a great start. From an industry perspective, it's reassuring that huge players are beginning to understand the benefits that can come with the technology."
A number of people were optimistic by the idea that Facebook may lend more legitimacy to the growing area. The social network's ban on cryptocurrency ads was well-received for similar reasons, a ban that came into the spotlight last week after it emerged Facebook was even denying ad space to crypto parodies.
"At a time when cryptocurrencies and blockchain are being increasingly associated with just money-making schemes and not with technical advancements, it is vital that more research happens for implementation of blockchain technology in real-world use-cases," Neer Vashney, a journalist and a member of the Velix ID blockchain startup, wrote in a story for The Next Web.