Free Comic Book Day 2018: What to Know and Where to Get Them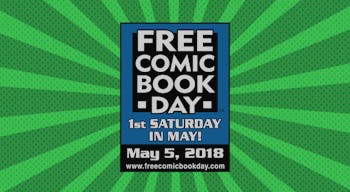 YouTube
Local comic book shops will be flooded on Saturday for Free Comic Book Day. From Avengers to Doctor Who, there are 50 titles up for grabs from both large and small comic book publishers.
Free Comic Book Day started in 2002 as a way to get new readers into independent comic book stores. Each year publishers such as Marvel, DC, and Image print a special comic released only for that day for stores to give away.
This year's comic haul has some big names from all the major publishers along with titles made famous in other mediums:
Avengers Captain America
This new Avengers comic is the start of something big in the Marvel Universe. Also included is a Captain America story written by Ta-Nehisi Coates, his first outing of the character before his run on the comic that starts on July 4.
Infinity Watch / Amazing Spider-Man
A new team of Nick Spencer and Cliff Rathburn are at the helm of The Amazing Spider-Man. The free comic will start the friendly neighborhood hero on a new path as well as a bit of story regarding the Infinity Countdown event.
Doctor Who #0
Fans of Doctor Who can pick up a free comic featuring the 10th (David Tennant), 11th (Matt Smith), and 12th Doctor (Peter Capaldi).
Star Wars Adventures
Fans who are craving some Han Solo action before the release of Solo: A Star Wars Story, can grab this issue that takes place before Star Wars: A New Hope. Han and Chewbacca will try to escape the bounty hunter Zuckuss and 4-LOM.
Boom Mighty Morphin Power Rangers Special SG
Power Rangers fans can learn more about the Power Rangers: Shattered Grid event in this free comic. The event taking place in the Mighty Morphing Power Rangers and Saban's Go Go Power Rangers comics focuses on Lord Drakkon, an evil version of Tommy the Green Ranger, who is trying to destroy the energy that gives the Rangers their powers.
Dark Horse Overwatch & Black Hammer
Dark Horse Comic put together an issue featuring one of the most popular video game franchises, Overwatch, with one of the most critically-acclaimed titles, Black Hammer.
Comics available on Free Comic Book Day are in limited quantities, so if one store is out, try visiting another comic shop. Along with the free comics, some stores will also have prints and posters of the upcoming Venom movie. The official Free Comic Book Day site has a list of what shops are participating in this year's event.