'Power Rangers Shattered Grid' Comic Will Return to the Show's Darkest Season Ever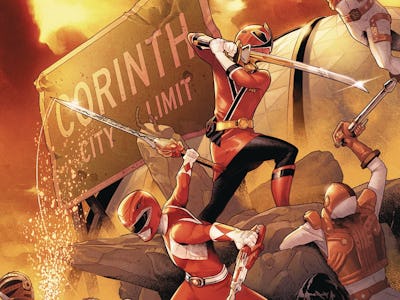 BOOM! Studios
Things aren't going very well for the Power Rangers right now. And things are about to get even darker, as the wildly successful Mighty Morphin Power Rangers comic book series from BOOM! Studios will prominently feature the cult favorite 2009 season, Power Rangers RPM, in an upcoming issue.
On Wednesday, Power Rangers writer Kyle Higgins tweeted praise to illustrator Daniele Di Nicuolo for his work on an undisclosed future issue of the series: "Well, it's official," he said, "@imkota is out to make The Battle of Corinth the most jaw dropping sequence in Power Rangers history. #ShatteredGrid"
When a fan asked Higgins if he's including Power Rangers RPM — set in the fictional city of Corinth — he responded with the cover of issue #27, releasing on May 16, which depicts the original Red Ranger and the Red Samurai Ranger fighting Grinders at Corinth city limits. BOOM! had previously revealed the cover before, but the general summary only briefly mentioned RPM. A full-fledged battle is news to fans eager to revisit the world of Power Rangers RPM.
Here's the official summary to Mighty Morphin #27:
"In Mighty Morphin Power Rangers #27, from writer Kyle Higgins and artist Daniele di Nicuolo, Lord Drakkon's power and influence grows, as the Power Rangers work with new allies from across time and dimensions, including Ranger teams such as Time Force, RPM, and Samurai, to craft a plan to fight back. But is it already too late? This issue features a main cover by Jamal Campbell (Green Arrow), with variant covers by Jordan Gibson (America) and Carlos Villa (Lockjaw)."
In 2009, Disney's waning interest in keeping the Power Rangers franchise in its portfolio, aired what would be its final effort. Power Rangers RPM, starring future Marvel and DC actors Rose McIver (iZombie) and Eka Darville (Marvel's Jessica Jones), lasted for 32 episodes on ABC. Though it did poorly in the ratings — it sometimes aired as early as 5 a.m. depending on one's ABC affiliate — RPM remains a cult favorite among die-hard fans due to its darker themes and post-apocalyptic setting, unique to the Power Rangers franchise.
In 2010, Saban Brands reacquired the franchise, and Power Rangers Samurai aired on Nickelodeon in 2011. The series has since resumed on television.
There is still precious little that's known about Mighty Morphin #27. There is still one more issue of Mighty Morphin, issue #26 in April, as well as the next issue of Go Go Power Rangers #9 by Ryan Parrot, not to mention the Free Comic Book Day special of Mighty Morphin Power Rangers, releasing on May 5. Because all these storylines are connected, how the Mighty Morphin team end up in the dangerous world of Corinth remains to be seen.
Mighty Morphin Power Rangers #26 will be released on April 18.