Heathrow Airport Offers Flights to a Galaxy Far, Far Away for Star Wars Day
Remember to check your crossbow.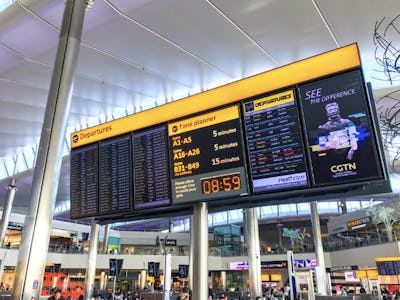 Travelers departing from London's Heathrow Airport are in for a surprise rerouting. In celebration of May the Fourth, aka Star Wars Day, Heathrow Airport is offering non-stop flights to some of the franchise's favorite locations, from Hoth to Tatooine.
The departures board at Heathrow scrapped its usual scheduling in exchange for intergalactic flights on Friday. Flights to Jakku were delayed due to sandstorms (typical for this time of year) while the flight to Kashyyyk was surprisingly on time, considering Heathrow clearly reinforced the British airport security rule that all crossbows must be checked in before departure.
At least one passenger picked up on the gag:
The airport doubled down on the joke with the help of augmented reality. Fans shared photos of an AR display of an AT-AT hanging out on the tarmac.
Star Wars Day first became the holiday it is today after a group of comedians organized a fan event at the Toronto Underground Cinema in 2011. "May the Fourth be with you" is too great of a pun to ignore, and over the last seven years, the date has evolved from an underground gathering to a worldwide fan celebration.
Heathrow's thorough attention to details, like Jakku's sandstorms and the crossbow rule, made it easy for fans to join in with jokes of their own. Travelers who were in on the joke posted photos on Twitter complaining about their delayed trips to Endor and other flight news. The airport even went so far as to cancel its flight to Alderaan. (Too soon?)
For those who missed their flights to Kashyyyk but still want to commemorate May the Fourth, pre-sale tickets for Solo: A Star Wars Story quietly went on sale on Friday as well. The next installment of the Star Wars anthology series hits theaters on May 25.
Nobody likes to be stuck in an airport, so it's a rare achievement when Heathrow can make Star Wars fans wish they were waiting in a terminal.