Revenge of the Fifth Is the Corny Dark Side Alternative to May the Fourth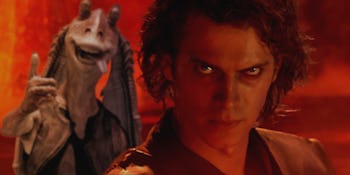 Lucasfilm
Star War fans don't really need an excuse to celebrate Star Wars, but May the Fourth has become an unofficial holiday all about that galaxy far, far away. However, Cantina Band doesn't stop playing when the sun sets, because the following day is an even more unofficial Star Wars holiday that celebrates the goofier side of the franchise. It's the Revenge of the Fifth.
Back in 2012, Dallas residents Victor Medina and Eric Shirey created Revengeofthe5th.net. The website is still being updated even if the outdated banner on the top of the page only reads 2012-2017.
"My nephew cracked a joke on May 4 about Revenge of the Fifth," Medina told Inverse in a 2016 interview. "We thought the whole idea for 'Revenge of the Fifth would cover the flipside of the Star Wars universe, with all the really goofy, funny stuff."
In other words, while May the Fourth, which has been wholeheartedly embraced by Disney, Lucasfilm, and other corporations, Revenge of the Fifth is all about celebrating The Star Wars Holiday Special. That's the infamous, drug-addled TV special that aired in 1978 that George Lucas would really, really like to erase from existence. Fandom and fan culture are also key aspects of the Revenge of the Fifth ethos.
There's no right or wrong way to celebrate Star Wars Day or Revenge of the Fifth. But, if you're looking for some guidance on Revenge of the Fifth, might we suggest watching YouTube videos of the Ewoks cartoon series, reading fanfiction where Finn and Poe kiss, and checking out this article Inverse wrote about whether or not Darth Vader still has a dick. That's the raw, uncut Star Wars content that The Man isn't going to give you on May the Fourth.