The Weirdly Friendly Battle for Star Wars Day Supremacy
'Star Wars' Day's origins and what's in store for the future of May the fourth.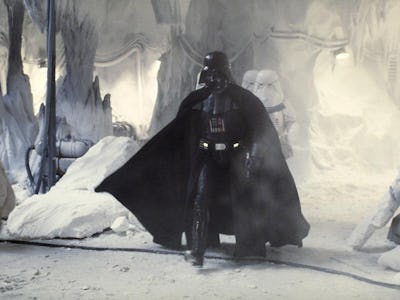 StarWars.com
These days, what with the dribs and drabs of Episode VIII and Rogue One news and rumors, it seems like just about every day is Star Wars Day. But today, May the 4th, is a special day on the Star Wars fan calendar, all thanks to a playful, official pun-driven idea by a Toronto comedian.
"If you say 'official' it kind of makes it sound like it was part of Disney," Sean Ward, a YouTube entertainer and comedian, told Inverse. Ward and some like-minded Star Wars fans first organized an event to celebrate the day that sounded a lot like the famous phrase "May The Force be with you" in 2011, at the now-defunct Toronto Underground Cinema. "It wasn't official so much as it was the first organized event. What we did was actually put on an event that people could come to, and fast forward this many years later and it's an international thing that people look forward to as an annual tradition."
Ward's first Star Wars Day was a relatively modest affair. "The main chunk of the presentation back then was a curated collection of Star Wars fan films from YouTube," he said, which was meant to grow into a collection of clips and parodies. "It was much more of a wild west thing," he explained, saying that he simply latched onto the humorous "May the fourth be with you" tagline as fans first before realizing it could grow into a bigger occasion.
"If we could've had any sort of official sanction from Lucasfilm we would have, but just us as individuals we did what we could to do something that sounded like fun, but we also saw the opportunity to snatch something up for Toronto to say the first one happened there," he said.
When Disney, which bought Lucasfilm in late 2012, officially began promoting Star Wars Day in 2013, as a way to promote upcoming sequels and sell merchandise, fans across the globe accepted that the event was now out of their hands. But there was another: Victor Medina had already created an alternative to May the 4th, a holiday to be celebrated a day later.
Dallas-based Medina and his friend Eric Shirey created Revengeofthe5th.net in 2012 as a reaction to Star Wars Day. "My nephew cracked a joke on May 4 about Revenge of the Fifth," Medina told Inverse over the phone. The new phrase was a riff on Revenge of the Sith, the title of George Lucas' third prequel episode of the saga, and was meant to be a tongue-in-cheek companion to Star Wars Day. It honored the movies just like the fourth, but instead expanded the celebration to two days and was meant to highlight the kitschier side of Star Wars.
"We thought the whole idea for 'Revenge of the Fifth would cover the flipside of the Star Wars universe, with all the really goofy, funny stuff," Medina said. Specifically, he was talking about the much-maligned Star Wars Holiday Special; the Ewok TV movies; idiosyncratic old toy commercials; Star Wars Uncut, the fan-made mashup of second-long clips that recreated the original movie; and even the other various fan films and parodies that Ward might have highlighted in his original Star Wars Day event.
Medina summed up Revenge of the Fifth as "everything that's not necessarily canon or part of the original trilogy, but celebrates the fandom on the fringes of it."
It takes a decidedly more personal approach. For instance, on May 5th, he and Shirey will post a YouTube playlist of various clips they recommend to create a collective viewing party. This is in addition to the occasional eBay charity auctions the site holds, which features autographed Star Wars memorabilia, and goes towards donations made to local Texas charities.
Most importantly, the still relatively small movement was born out of the old Star Wars Day mentality. "It's become more of a mainstream event," Medina said of May 4. "What I liked about Star Wars Day is that a lot of folks celebrate it in their own way." But Medina stressed he's by no means against Star Wars Day. "I'd love to see the idea of having a two-day thing to celebrate Star Wars," he said, "but have that second day be for things that have grown off from Star Wars and to keep it fan-based."
When asked about the grassroots origins of Star Wars Day potentially getting away from him and other fans, Ward was sanguine about Lucasfilm and Disney's claim to the property: "It doesn't bother me at all because Star Wars is theirs, so they're entitled to do whatever they want," he said. "It's always been a through-and-through exercise in corporatism and capitalism, but I think Disney has been great at managing the brand on a corporate level with a hands-off approach and letting talented people do what they do."
Ward saw Disney's own fan-oriented approach, despite it being an enormous corporation, as a model to expand his own Star Wars Day event, while still keeping things fan-focused. "My dream is that as the reputation continues to grow that it's on the bucket list of hardcore Star Wars fans everywhere that they need to get to Toronto for Star Wars Day."
He compared ambitions for the Toronto event to be something like the official Star Wars Celebration, the massive Comic-Con-esque gathering, saying he wanted it to have a "kind of fan-oriented flavor but fan-run."
Ward's Toronto event did not happen the last three years, but is back again this year in full force. Fans will gather in Toronto's Dundas Square for what he called an "epic group photo," and then they'll proceed to a local venue where there will be a costume contest, a trivia game show with prizes, celebrity guests, and themed food and drink specials. It's essentially a big Star Wars charity fundraiser (specifically for the Sick Kids Foundation, which works with children's hospitals across Canada), and still has the same air of geek-centric pride as the first one in 2011.
But Ward acknowledged that the holiday festivities will continue to grow because of a mix of fan fervor and perfect timing. "Star Wars Day is on a Wednesday this year, and in another two years it's going to be on a Friday, and then Saturday after that," he said. "When we get to those two years, it's going to be crazy and everything will be at a fever pitch."
The party will only get bigger from there.
"Imagine in the future there's something about Star Wars Day at Madison Square Garden?" Ward asked. "I don't think that's outside the realm of possibility, and it's all good by me because it means more fun for everybody."
As for Medina, before his curated Revenge of the Fifth playlist hell be watching the original trilogy on his unaltered VHS copies on May 4. "I have a nostalgia for these old formats of watching the original versions," he said. "The old fashioned way."
Regardless of what you hear about Star Wars Day, how you choose to celebrate it should remain the focus. Fans were brought together for their love of pure escapism, and they shouldnt forget that. So with that in mind, may the Force — and the fourth and fifth — be with you.