Why Econopeople Can Raise Children But Handmaids Can't in 'Handmaid's Tale'
Could this be Gilead's cruelest twist yet?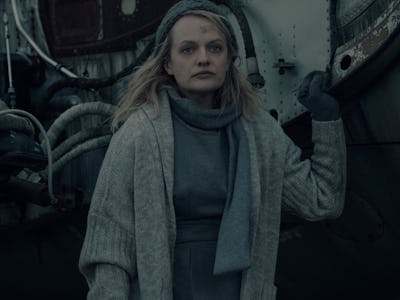 Hulu
The Handmaid's Tale returned to Hulu Wednesday with the third episode, "Baggage," since it's Season 2 premiere last week. And while it's shocking twist ending served up plenty of reasons for why this season better and more brutal than ever, it was our closeup of the Econopeople of Gilead that proved to be the most lingering question mark of all: Who has the right to motherhood in this dystopian hellscape?
Spoilers for The Handmaid's Tale follow below.
"Baggage" finds June (Elisabeth Moss) arriving at a community of Econopeople, the lowest-ranking citizens in the Republic of Gilead. Taken in seemingly against the better instinct of one of her transporters (played by Yahya Abdul-Mateen II) after a botched rescue attempt following her departure from the Boston Globe offices, we are shown that there are indeed women other than Commanders' wives who are able to raise children under this authoritarian government. Upon arriving at the man's home, we're introduced to his wife (Joanna Douglas) and the couple's young son.
The Economen and Econowives, with their regimented schedules and public professions of faith, raise serious questions about why some women are allowed to be mothers to their own children while others are forced into sexual slavery as Handmaids. Bustle points to several fan theories that Handmaids are given their roles for having committed some perceived crime against Gilead's religious dogma, such as being homosexual or, in June's case, having an extramarital relationship. This appears to be confirmed by June herself in "Baggage."
"So this is where the Econopeople live," June narrates upon her arrival at the community. "It's where I'd live if I weren't an adulteress, if I'd gone to the right kind of church, if I'd played my cards right… If I'd known I was supposed to be playing cards."
This revelation is among one of the show's cruelest of all, as we know from (and indeed from Margaret Atwood's original narrative), that June once had a daughter, Hannah, who was taken from her before she was forced into servitude as a Handmaid. June has been permitted (from the safe distance of a car window) to see her daughter one time since they were separated, with a powerful performance by Moss dominating the Season 1 finale. Flashbacks of tender moments between June and Hannah surface as she watches the Econowife's tender moments with her own child as they prepare for church.
If anything, this experience will be even more fuel in her fight to get Hannah back. But as we find with her implied recapturing at the end of the third episode, the feat may be harder than she'd previously anticipated.
The Handmaid's Tale is available for streaming Wednesdays on Hulu.