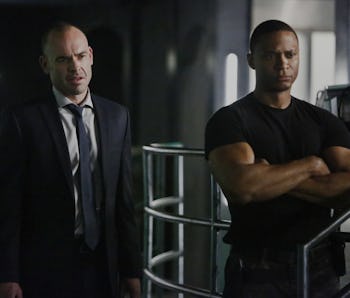 Entertainment
'Arrow' Season 7 Spoilers: A Major Character Will Not Be Coming Back
The CW
A major Arrow character is exiting Star City limits. Before Season 7 of Arrow airs this fall on The CW, Paul Blackthorne will be gone as his character, Quentin Lance, is written out before the end of this current season.
On Wednesday, Entertainment Weekly reported Blackthorne will leave the cornerstone DC TV series following a six-season run as series regular. Exact details for Quentin Lance's exit are unknown, but considering how violent Star City has been, it's probably not going to end well.
Blackthorne joins Willa Holland as another Arrow regular who bows out of the upcoming seventh season. In their place will be Colton Haynes, who will return as Arsenal/Red Arrow as a regular on the show.
Quentin's journey has been a very weird one in the history of Arrow. From the pilot, Quentin was a veteran cop who held strong anti-vigilante beliefs. He despised "The Hood" while completely unaware he was Oliver Queen (Stephen Amell), the spoiled rich boyfriend of his daughter Laurel (Katie Cassidy) back from a seven-year shipwreck in Asia with his other daughter, Sara (Caity Lotz). It was of little surprise that Quentin went nuclear when he eventually found out Oliver Queen was "this Hood guy" he hated so much.
Somehow, though, by Season 4, Quentin had warmed up to both Oliver and his vigilante duties. It was probably due to Quentin's own problems, including most of all a bout of alcoholism, which he relapsed when Laurel died at the hands of Damien Darhk. Even though Quentin recovered, his character has sort of floundered aimlessly throughout Season 6. This makes it a pretty good time for him to leave and make room for other characters in Season 7.
Blackthorne's exit will likely leave him more available for new projects. In 2013, shortly after debuting as Quentin Lance in Arrow, his documentary This American Journey was released. In the film, Blackthorne, a native of England, and Australian photographer Mister Basquali journey through the United States interviewing random people about their personal lives. In 2017, Blackthorne again directed a documentary, Save the Rhino Vietnam, which peeks into the black market of wildlife trafficking.
Arrow airs Thursdays at 9 p.m. Eastern on The CW.