The Gru "Gorl" Meme Is the Best Thing to Come Out of the Minions Universe
A crash course in Minions humor.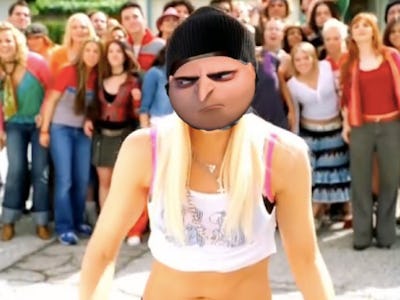 @thelocalemo
This week, a meme called "Gorl" began setting the internet on fire. If you haven't seen the Despicable Me movies — you know, the ones with Minions, those popular yellow blob creatures — it probably won't make any sense. Never fear! We're here to explain exactly what's happening to your timeline.
OK, so this is Felonius Gru. He's voiced by Steve Carell. He's grumpy but good, and he's shaped like an oval. For anyone who has somehow avoided Minions mania, Gru is a central character in Despicable Me, Despicable Me 2, and Despicable Me 3, and he makes some appearances in Minions. Gru is an evil villain who ends up becoming an endearing adoptive father to three sisters.
His birthplace is unknown, but he has an accent that makes him say "girls" like "gorls."
According to the website Know Your Meme — the authority on this kind of thing — the meme was created on April 14. Like so many memes that have come before, it stems from some ridiculous wordplay.
Following that post, the internet began taking Gru to new heights, placing the Despicable Me character's face onto anyone who is associated with the word "girls." Like so:
This is just the beginning. More of the best Gru memes below.
Look, sometimes the best jokes are so stupidly simple you can't help but laugh. "Gorl" is absolutely one of them.